| | |
| --- | --- |
| News of website Montre24.com: Exclusive video of watch models by Pierre Thomas at GTE 2012 | |
The information watch portal Montre24 provides a unique opportunity to all lovers of watch art who are keeping an eye the latest developments in the watch industry, to learn about watches of the company Pierre Thomas, presented at the annual exhibition GTE 2012. In addition to watches, the company Pierre Thomas has presented its legendary manufacturing movement and unique watch dials. On our site montre24.com there is an exclusive video - http://montre24.com/video/21/ of Pierre Thomas which clearly guides you with all the products of Pierre Thomas.
GTE (Geneva Time Exhibition) is one of the most significant events of the watch world, which is held in Swiss town Geneva every year. The exhibition GTE is a unique opportunity for watchmakers, designers and owners of different watch companies to present their latest watch creations, different ideas and innovations to the public, and also exchange their observations in the complicated world of watch making.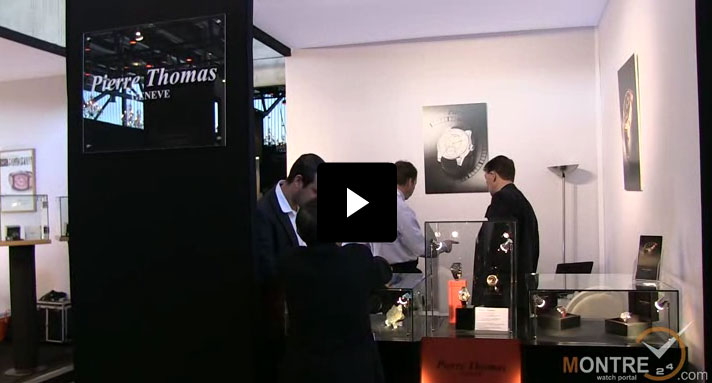 11.02.2012
Novelties of Pierre Thomas at GTE 2012
At the GTE 2012 the watchmaker Pierre Thomas has presented unique models of the watches with individual characteristics and specific features. The luxury model Tourbillion XXL Salamander has a dial which is decorated with a figure of salamander in chiseled mother-of-pearl.
18.01.12 Comments(0)



In 1870, two friends, Pierre and Thomas, sharing a common passion for the true Swiss watchmaking and the old watch movements, founded their own watch company, known for its exclusive watches, and gave it Pierre Thomas name. "Passion and reason" is the slogan of the creators of Pierre Thomas brand. At the first sight, the watches, produced by the company, are plain, but at the same time, they combine the refined sense of aesthetic and the cutting edge technology for the original watch production. Historique Tourbillon, the company first watch, was generously enriched with different proportions and equipped with the historical Swiss mechanical calibres, produced in the workshops in Fontainemelon between 1870 and 1930. This watch is the exclusive model of Pierre Thomas company. The &q...
Detailed information Pierre Thomas