| | |
| --- | --- |
| New Ninth Mayan Underworld Watch by De Bethune | |
Swiss watchmaker De Bethune has produced an unusual watch Ninth Mayan Underworld, dedicated to the Mayan calendar. It is the same calendar, which according to one version predicts the end of the world, but on the other one - the completion of 394-year cycle and the transition to the ninth cycle - "Underground". What exactly does all this mean, perhaps, no one knows, but the Ninth Mayan Underworld watch will be a great gift for lovers of archeology and history.

A gold dial for this watch is made with own hands of the engraving master Michelle Rothen. On the outer ring of the dial blued hour indexes are set. The inner ring is decorated with images of twenty various deities and sacred of Maya. The central part of the dial is decorated with a symbolic calendar. The whole dial in a whole is very similar to ceramic and stone sculptures of the Maya. The watch hands are made of transparent sapphire glass and decorated with blued steel tips in the form of ritual symbols of the Maya.

The Ninth Mayan Underworld watch is dressed in a round case made of white gold. Its diameter is 44 mm and a thickness of 12.5 mm. In addition to the double antiglare sapphire crystal on the dial, the watch has a transparent window on the case back. Through it can be seen the beautifully decorated mechanism DB 2005 with manual winding, on the 29 jewels, having a balance wheel from silicon and platinum. Two winding barrels DB 2005 provide a six-day power reserve.

The Ninth Mayan Underworld watch is delivered on a black leather alligator strap. Total production is 12 numbered items of the unique model. This watch will hardly be popular in the new 2013 year. But now 12 lucky people can play the next End of the World, reminding about it with his new De Bethune watch, made in the Mayan style. By the way the famous Mayan calendar ending in 2012 is like a round watch dial. Perhaps, like the watch, after the 12-year just follows the 1st one?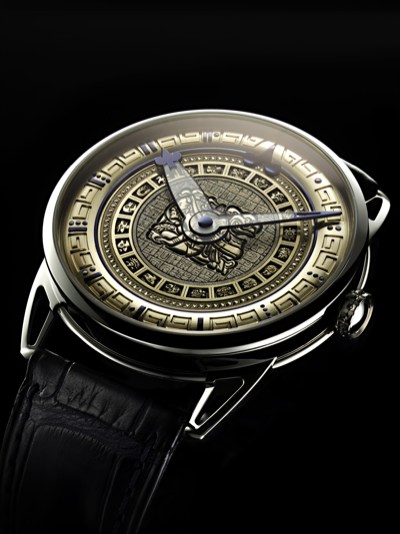 18.01.2012
Funny Rabbit
oh, rather impressive and sinister watch
De Bethune Presents Futuristic Dream Watch 5 Model
Founded in 2002, De Bethune pleased collectors and fans of unusual watches with an exclusive model Dream Watch 5. The model is created by the brand`s founders David Zanetti and Denis Flazhole.
21.01.14 Comments(0)

BaselWorld 2013: DB25 Imperial Fountain by De Bethune
In April 25, its doors to the annual international exhibition BaselWorld 2013 will open, where the watch brand De Bethune will officially present its collection DB25 Imperial Fountain. The models included in the collection, are issued in a single copy.
25.04.13 Comments(0)

SIHH 2013: New DB28 Skybridge Watch by De Bethune
At the annual exhibition SIHH 2013, the watchmaker De Bethune has presented a novelty DB28 Skybridge. For more than 11 years, the theme of the sky is the brand's original card. The model DB28 Skybridge, presented at the annual Geneva exhibition, is no exception.
30.01.13 Comments(0)

Stylish Pocket DBM Watch by De Bethune
Today, many watch brands surprise not only a variety of wristwatches, but also the originality of the pocket watches. One of such brands is De Bethune, who recently released an exclusive pocket watch DBM.
24.10.12 Comments(0)

Novelty DB25 by De Bethune
The new model DB25 from the company De Bethune, submitted in May 2012, is a unique masterpiece of fine watchmaking, which displays a peculiar vision of the company's time.
12.05.12 Comments(0)

BaselWorld 2012: De Bethune introduces a DB 28 ST Watch
The watch company De Bethune has presented at the annual international exhibition BaselWorld 2012 a novelty - a DB 28 ST watch, in which are combined the traditions of high watchmaking art with the company's philosophy, with the participation of the brand's founders David Zanetta and Denis Flageollet.
06.04.12 Comments(1)

The new DB28 Aiguille D'or model from De Bethune
De Bethune watch manufactory was founded in 2002, basing on the avant-garde vision of traditional watchmaking. Purely modern aesthetics of De Bethune mechanical timepieces combines innovative technological know-hows of the manufacture's craftsmen, inspired and nurtured by multiple centuries of watchmaking history.
07.02.12 Comments(0)

In September 23, 2011, a charity auction Only Watch was held
In September 23, 2011, on Friday, a charity auction Only Watch was held under the patronage of His Highness Prince Albert II. The proceeds for the auction will be given for research into Duchenne muscular dystrophy. The auction is held every two years, and among its members the most prestigious Swiss watch brands appear.
26.09.11 Comments(0)



De Bethune company was founded in 2002. Its founders are watchmakers David Zanetta and Denis Flageollet, whose motto was: "Style. Creativity. Quality". The company was named after the French expert, who invented the movement regulator for pocket and long-case clocks. The company's headquarters and its laboratory are located in L'Auberson. De Bethune has produced an interesting wrist watch, ...
Detailed information De Bethune