| | |
| --- | --- |
| A Planetary Watch Fortis | |
In 2012 the Swiss watch company Fortis will be exactly one hundred years from the time when it was founded in Grenchen by Walter Vogt. In connection with the anniversary the company announces the issue of the new limited watches B-47 Mysterious Planets, which design is inspired by the planetary map of our solar system, reflected on the dials of the new models.

The watches are available in two versions: ref. 677-20-31-L01 with trendy black dial and ref. 677-20-35-M with the sky-blue dials, as the relevant to space topics. The watches are clad in stainless steel round case having a water resistance up to 200 meters. On the rotating sectors of the dial are represented the orbits of Earth, Jupiter, Mars, Venus and Mercury, revolving around the sun, which role performs the central minute hand. The planets are round windows in which as rotating the sectors of the dial the numbers corresponding to the current hour appear. Such a time indexing until this day has never met in the other astronomical wristwatch. As the five planets movement the appearance of the dial is constantly changing - every hour you look at a few another watch on the wrist.

Inside is mounted an automatic mechanism. B-47 Mysterious Planets is delivered on a steel bracelet, a black leather strap, or silicone blue rubber strap.

B-47 Mysterious Planets is issued in a limited edition of 500 items. You can buy the novelty for around $ 5500 - the price varies slightly depending on the strap or bracelet.

Fortis name means "strong". For the past hundred years, the watches of this company are faithful companions for sailors, pilots and even astronauts. Perhaps due to the maintenance of such cooperation, this watch company not only survived at the time of the quartz crisis, "flood" of many Swiss manufacturers, but also presented new developments.

The new watch B-47 Mysterious Planets is simple and at the same time has a unique design. It does not shout about its singularity - it's obvious.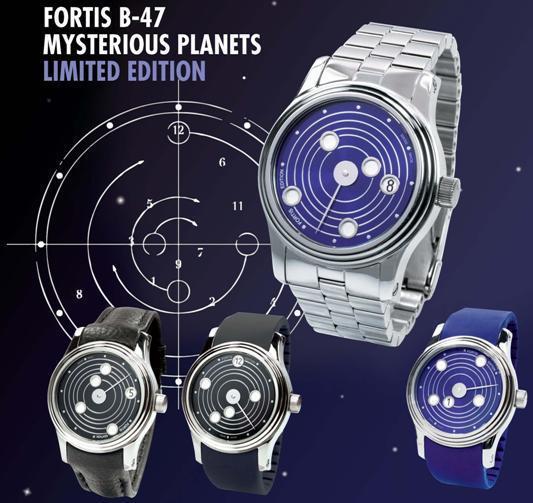 12.12.2011
Spacematic Classic Timepiece by Fortis
The company Fortis has released a new model Spacematic Classic with a round stainless steel case. The case in diameter is 40 mm, the watch water resistant - 100 meters.
08.06.13 Comments(0)

New Spacematic Bilingual Watch by Fortis
The Swiss watch brand Fortis has developed a novelty Spacematic Bilingual, having a round case with a diameter of 40 mm from stainless steel. The watch water resistant - 100 meters.
07.06.13 Comments(0)

Jumping Hour Timepiece by Fortis
The annual international exhibition BaselWorld 2013 will be held at the end of April - beginning of May. The Swiss watch brand Fortis will present its novelty Jumping Hour at the exhibition.
25.03.13 Comments(0)

Fortis presents F-43 Flieger Big Day Big Date watch
In 2012, the company Fortis celebrates its 100th anniversary of the company's founding. In honor of this auspicious date the Swiss watch company presents a commemorative watch - Fortis F-43 Flieger Big Day Big Date. Design of the novelty as well as the name implies, is made in the pilot style.
11.08.12 Comments(0)

New B-47 World Timer GMT Watch by Fortis
Swiss watchmaker Fortis in 2012 celebrates its 100th anniversary. Over the years the company Fortis has retained tradition of creating complicated chronographs for aviation and space exploration.
13.06.12 Comments(0)

Multifunctional New Watch by Fortis
Swiss watch company Fortis has introduced a new limited edition model. The watch has a pretty impressive long name Flieger Limited Edition Chronograph Alarm GMT Chronometer COSC Dual Power Reserve (Ref. 703.20.92 LC05).
13.01.12 Comments(1)

Vintage by the Watch Company Fortis
This year the watchmaker Fortis celebrates a jubilee - since its founding 100 years have passed. In honor of this event the company has released a new watch Marinemaster Vintage Limited Edition.
11.01.12 Comments(0)

The first online exhibition of watches on Facebook
In September 6- 9, 2011 the first online exhibition of watches was carried out. The event was held at the in the most famous social networking site of the World - Facebook. Moreover, it was the International Watch Exhibition. During the four days of exploring the masterpieces to buyers, sellers and journalists have been able to fully evaluate novelties of the industry without leaving the computer.
02.10.11 Comments(0)



Swiss Fortis company founded in 1912 in Grenchen (Switzerland), by a watchmaker Walter Vogt. The name is translated from Latin and Fortis means the strongest . Swiss watches Fortis are true companions of pilots, sailors, shipping, and this confirms their endurance and reliability. Fortis watches have stood the test of extreme, unpredictable situations. Fortis - these are the watches that have stood the test even in outer space. Swiss watches Fortis made an extreme skydiving at the South Pole on the wrist of Ernst Tsinoblera. Fortis watches are present where the inaccessible depths, the speed limit, a...
Detailed information Fortis