More than a decade Arnaud Tellier served as curator of the Museum of Patek Philippe. For the representatives of the watch world Arnaud Tellier represents a storehouse of unique knowledge about watches and is like a live encyclopedia. With great experience in the production of vintage watches and restoration work, he was responsible for the safety of the masterpieces in the museum. Also during the decade from 1990 to 2000 Arnaud Tellier served as an expert and conduct bidding at the auction Antiquorum. Until recently he was an adherent of the classical style.
Upon his retirement, Arnaud Tellier has radically changed his view of the world. Now he has become a votary of an avant-garde style and conceptual watches. Arnaud Tellier founded the company Tellier Fine Arts, which specializes in watchmaking expertise. And the most remarkable fact of this year - Arnaud Tellier has launched his own watch brand 2lmx.
Arnaud Tellier explains the creation of a new brand as follows: «2lmx - this is code for a group of friends at the age of 40. The group consists of a watchmaker, a operator of micromechanics, an artist, an engineer, a digital technology man, a designer of cases, a web designer and an animator. They are all recognized experts in their field and work in the watch industry from 15 to 20 years. The purpose of the newly-made company - to produce timepieces in the most unusual and unique shape. We want to implement new ideas for the production of watch masterpieces. And I even know the first purchaser of our novelty, which bears the name of the company - 2lmx ».
Such perfection can only be achieved through modern manufacturing processes. Completely new on the cylinder there are displayed hours and minutes, and the data is read clearly and easily. Behind the ultra-modern design, consisting of magnificent curves and bold shapes, is hidden the draper's caliber with a 100-hour power reserve. In the center the mechanism has two axial barrels. Gear train, also vertically oriented, is regulated by the one-minute tourbillion with adjustable rotating trigger lever and the carrying frequency of 18 000 pc / h. The caliber, assembled and polished by hand, is made of steel, gold and titanium. The novelty will be available in case of gold, platinum or titanium. Rubies of the mechanism are enclosed in chatons, and a sapphire crystal and a bracelet are made of high-tech materials. The first instance will be released in 2012 in a strictly limited quantity.
Arnaud Tellier is planning to introduce a novelty in the Grand Prix de l'Horlogerie de Genève in 2012.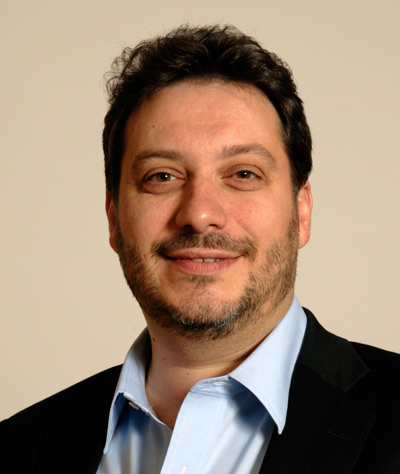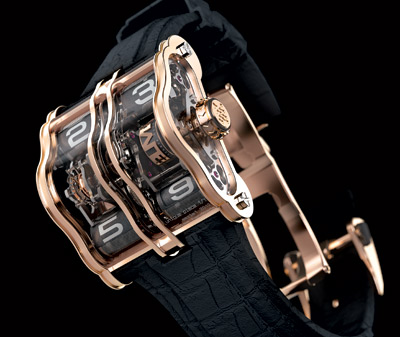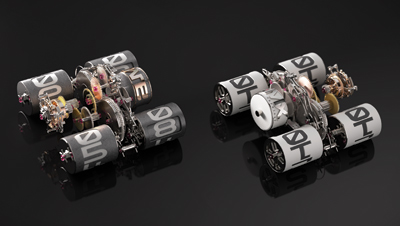 03.11.2011