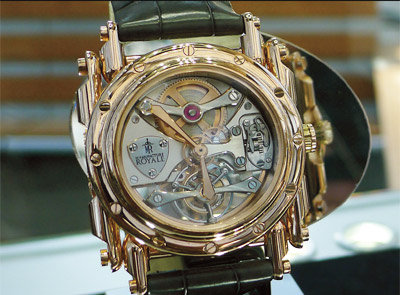 In September 2011 the watch brand Manufacture Royale presented at Rendez-Vous de l'Horlogerie in Monaco a new model of conceptual watch Androgyne. The new chronograph tourbillon complicated with manual winding and 60-hour power reserve. The official launch of the watch is scheduled at the beginning of October 2011. It is also expected the creation of the worldwide distribution network.
The model is designed on the basis of a round-caliber with automatic or manual winding, collected on the 19 stones. The unique mechanism performs 21.600 vph. The case diameter is 30.65 mm, and the thickness of the mechanism is 6.20 mm. The watch dial is modified by the central hour and minute hands. The display with a small second hand is set in a temporary position of index 6, and the power reserve indicator - on the position in an hour 12.
The crown is endowed with two positions for easy adjustment: the position 1 – for manual winding, the position of 2 - for setting the time. The bridges of Tourbillon are located between the stripes, the mechanism has a power reserve with the differential cylinder axis.
The color scheme of the dial is not defined yet. The power of the mainspring in the mechanism is M0 p. 670-700 mm. Along with the mainspring in the mechanism it is also present an automatic spring. The escapement gear teeth exhaustion is calculated from 15 to 86 °.
24.09.2011