| | |
| --- | --- |
| The Independent Watchmakers of Switzerland rushed to the south | |
In September 2011 in Perth, Australia, a new boutique Swiss Time Machine opened the door for the true connoisseurs of the masterpieces of watchmaking art. The creators of the boutique Swiss Time Machine, became the community of the best independent watchmakers of Switzerland.
Against the backdrop of growing instability in global financial markets and reduced consumer spending, some companies are wary of new proposals. Nevertheless, the founders and owners of the new boutique Swiss Time Machine, the Australian businessmen Josh Reed and Troy Barbagallo able to make contact with such prestigious Swiss manufacturers like MB & F, Urwerk, Peter Speake-Marin, MCT, Ladoire, Rebellion, Louis Moinet, and Romain Gauthier.
The boutique Swiss Time Machine is the first of its kind store that offers only handmade models of wristwatches. The range of brands, represented in the boutique, is impressive. A similar number of Swiss watchmaking stars in one building have not been seen before in Australia. At any point in this luxurious enclave a potential buyer can pick up the watch corresponding to his spirit.
The presentation of boutique was attended by the watchmaker and brand founder Peter Speake-Marin. He shared with the audience with his unlimited experience and incredible love of watchmaking. In the coming months the "visit" of other celebrities in watch industry is planning.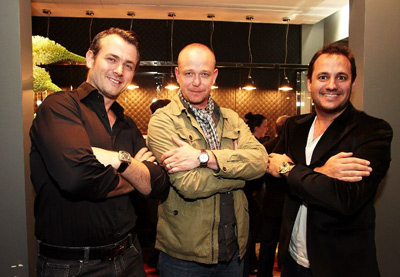 17.09.2011
BaselWorld 2014: Spirit Seafire by Speake-Marin
At the international exhibition of watches and jewelry BaselWorld 2014, to be held from March 27 to April 3, the watch brand Speake-Marin will officially unveil a new watch Spirit Seafire.
27.02.14 Comments(0)

Speake-Marin Presents Triad Timepiece
The watch company Speake-Marin has introduced another novelty - the Triad watch with triple hours-minute indication on a completely open, not burdened with unnecessary details, dial.
12.04.13 Comments(0)

Remember About Time - Skull by SPEAKE-MARIN
The skull on the dial of your favorite wristwatch will always remind you of the end of each of us - the death, and that we need to appreciate and be grateful for every passing moment.
05.04.13 Comments(0)

Speake-Marin Presents New Resilience Watch
Just two weeks ago, an independent watchmaker Peter Speake-Marin, who is the founder of the eponymous watch company Speake-Marin, introduced a new Classic HMS collection with indication of hours, minutes and seconds.
16.10.12 Comments(0)

Novelty by Speake-Marin - Classic HMS Watch: classics is eternal
A new wristwatch Classic HMS, released this year by the company Speake-Marin, is an interpretation of the Piccadilly watch, which was first presented in 2002. Faithful to the traditions, the design of the novelty is made in an elegant low-key style.
05.10.12 Comments(0)

Novelty by Speake-Marin - Serpent Calendar Watch
Presented by Speake-Marin new Serpent Calendar watch is a new version of the Serpent watch, which became a landmark model for the brand. The novelty is externally similar to its prototype, but the design of Serpent Calendar is developed from scratch.
13.07.12 Comments(0)

Exclusive Dong Son Watch with Drums by Speake-Marin
The watch company Speake-Marin, which was founded by Peter Speake-Marin, has introduced its first model in 2003 at the BaselWorld 2003. Three years later, the master has developed its second model - automatic tourbillon. Subsequently, collections of the company have been added by exclusive models.
22.06.12 Comments(0)



Peter Speake-Marin, who named his brand after himself, introduced his first model in 2003 at the Basel World exhibition on the stand AIHH. In 2006 he created his second model - automatic tourbillon Project Z3 for the brand Harry Winston. In 2009 Peter Speake-Marin presented the watch with his own caliber SM2. This model is primarily considered as a piece of Art. The dial is covered with the refined engraving. Since that time the engraving has become the unique symbol of the watches from the Speake-Marin brand. The automatic-winding movement is unique up to 99%, ie it means that it is not based on other known calibers. The diameter of the watch movement is 32.6 mm, the thickness is 6.2 mm. The main plate and the bridges are made of German silver. The watch is assembled by hand. Power reserve is 72 hours, the frequency is 21.600 vph. ...
Detailed information Speake-Marin