March LA.B is a Swiss watch-company, which makes a luxury watches. The head office of March LA.B is in Los Angeles, California and Biarritz, France. March LA.B watch models contain contrary styles and the best traditions of Swiss horology. However the composition of different styles did not interfere them to make their own design which absolutely exclusive.
The founder of the company - Alain Marhic having graduate from one of British academies decided to try a windsurfing. Early he was a fashion model and worked on Quiksilver which is one of the famous sport-wear producer. Soon he was set as a head manager of sunglasses and watches sector. There Alan was busy with design of different things. In 2008 he decided to leave this job and start up own business. So, in this way March LA.B. Company was founded.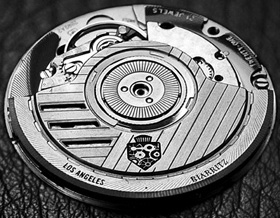 Today the company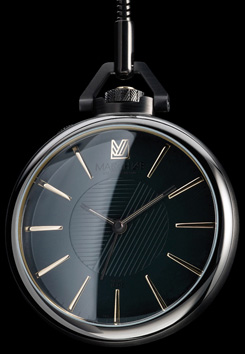 develops thanks to the talent of three creative people A Alain Marhic himself and his two friends: Jerome Mage and Joseph Chatel. Alen is the founder and a president of the company March LA.B., Jerome is a creative director and Joseph is busy with finance. Jerome left France when he was 20 years and moved to Los Angeles, California, where he started to work in a huge company which produced sun-glasses. There he was ahead of one of the departments. In 2001 he opened own design agency. Jerome is a person of many contradictions, he likes retro-futuristic design. His fresh ideas are reflected in March LA.B watches. March LA.B company pays tribute to old-fashion watch models. Artistic demands of the designers are shown in their products. Exclussive models are presented in three collections. Number "three" was not taken occasionally. It symbolizes three different natures of three friends, who do not save their time and forces in order to create something unique and beautiful.
AM collection is a crystal collection which models are made in classic style and anyone can put them on for any occasion.
JC collection contain models in of very elegant design.
JM collection is too than exclusive. Here are gathered watches for real men-of-fashion.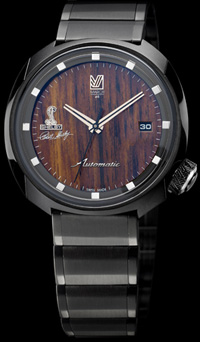 The assortment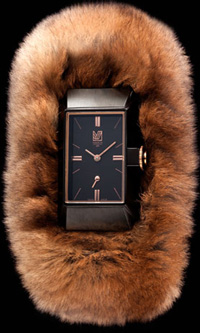 of the brand is also presented by such watch models as 1805. the components and the materials taken for these models producing were very carefully tested and examined. Every detail shows that the skillfulness of the designers is on a high rate. The cases are made of stainless steel 316L. Three hands are placed in the dials of different colors. The aperture of date is at the position of "3 o'clock". All the models are supplied with genuine leather straps or steel bracelets. A small rewind crown is at the position of "4 o"clock". At the back lid of every watch there is company's logo.
March LA.B watch company collaborates with some famous Swiss watchmakers, who's creative hands make original watches which contain an exclusive complication and amazing design.
All the March LA.B watches are supplied with Swiss automatic movement ÅÒÀ 2893, which is the best and the most complex (according to the idea of the leading specialists). However in March LA.B collections watches supplied with Swiss made quartz movements Ronda also can be found.
March LA.B watches is the prove of the best Swiss technologies and the high quality. The charm of such a unique watches is in the simplicity and elegance.