| | |
| --- | --- |
| New Ice-Watch Boutique in Zurich | |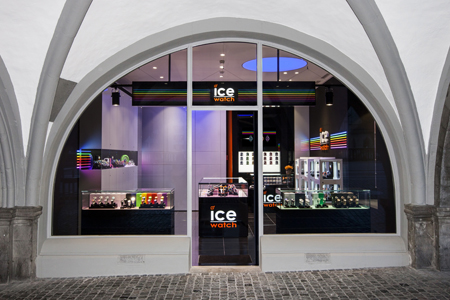 New Ice-Watch Boutique in Zurich
Last year, the watch company Ice-Watch has opened its first boutique in Geneva. In early October of this year, the brand opened a second store in Zurich. The personal architect designs the boutique of the total area of 42 m2.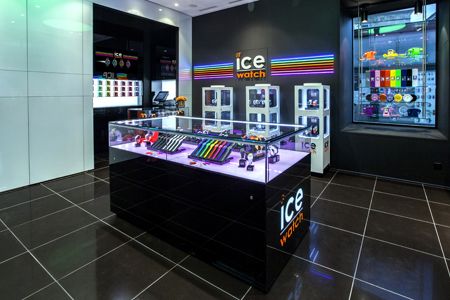 New Ice-Watch Boutique in Zurich
The Ice-Watch position is similar to its slogan "Change. You can", which encourages consumers to change the model, depending on the trend and seasons. It is not so difficult, given the affordable price of watches.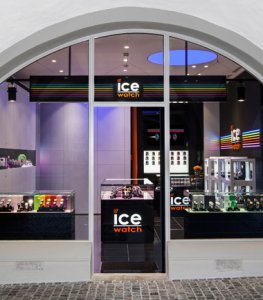 New Ice-Watch Boutique in Zurich
Note that the Christmas season assortment of Ice-Watch will be added by novelties with stainless steel and leather straps.

Official site of Ice-Watch®.

Written by Angel
12.10.2013
New Ice-Vintage Timepieces by Ice-Watch
Design of the new, presented by the watch company Ice-Watch, Ice-Vintage models demonstrate the individual aesthetic vision of the watches in past.
10.08.13 Comments(0)

Ice-Denim Collection by Ice-Watch
Denim - the trend of the year. At first, the brand Hublot has introduced a new "denim" line, and now the brand Ice-Watch has announced a new Ice-Denim collection. The novelties are the result of two years work of the masters.
25.07.13 Comments(0)

Ice-Watch has become a premium partner of BMW Motorsport in the DTM racing
The watch company Ice-Watch in the new 2013 debuts in the popular racing series DTM as a premium partner of BMW Motorsport. In the season of 2013, the driver Marco Wittmann from the BMW Team MTEK will conquer the track in the car Ice-Watch BMW M3 DTM with starting number 21 and striking design of the Ice-Watch on the hood, roof and car body.
07.03.13 Comments(0)

Ultra-thin Watches by Ice-Watch
The famous watch brand Ice-Watch has pleased its fans with a launch of a new line. New in 2013 was marked by two novelties by the company Ice-Watch: the first line of Swiss Made models, which was followed by the watches, named Ice.
22.01.13 Comments(0)

Ice-Watch has released the Ice-Phone
The watch company Ice-Watch has surprised its fans with the launch of a novelty - Ice-Phone – with a tube and stand for smartphones with a matte rubber finish in several color versions - black, white, blue, green, yellow, orange, red, pink, purple, silver.
15.10.12 Comments(0)

Ice-Pure Collection by Ice-Watch
Inspired by the success of Classic Clear Collection, the watchmakers of Belgian company Ice-Watch have created a new Ice-Pure collection, the design of which is associated with the fascinating world of ice.
03.07.12 Comments(0)



Style and Fashion are the basis for Ice-Watch® watches creation. Watch producers state, that an Ice-Watch® watch is not just a time measurement instrument, the brand's watch is a stylish accessory and a part of your image. The company started its activity not long ago – in 2007. The first brand's watches were produced in Belgium, in Bastogne, where the company's headquarters is situated now. By present day the company has managed to take its place in the watchmaking market and to sell its products in over 80 countries, on all continents. By the end of 2010 the company was selling up to 3 milli...
Detailed information Ice-Watch®