The watch company Ice-Watch has surprised its fans with the launch of a novelty - Ice-Phone – with a tube and stand for smartphones with a matte rubber finish in several color versions - black, white, blue, green, yellow, orange, red, pink, purple, silver.
Retro handset, which can be combined with mobile and tablet devices, improves sound quality and ease of use with mobile devices, easily using the functions of the phone when calling. The new Ice-Phone with its own button to answer, end and mute calls instantly turns PC into a phone - you only need to download Skype.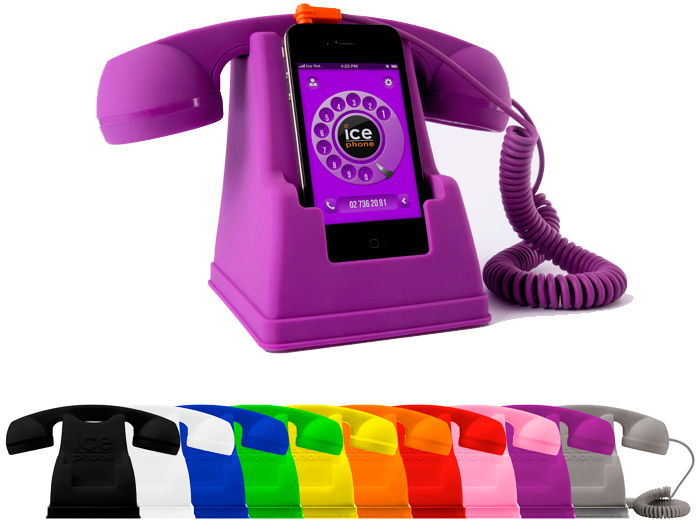 Ice-Phone by Ice-Watch
Color stand on which the handset is in standby mode, serves as a support for smartphones. Charging the phone is possible thanks to an available charger.
Ice-Phone app turns the smartphone into a retro-phone with the dial screen and the color of the handset and the base.
Ice-Phone is equipped with the following features:
The handset is compatible with many mobile phones, tablet devices and computers;
Improved sound quality;
Eliminates up to 100% of the absorbed radiation, affecting the brain;
During the call, there is access to other features of the phone;
Turns PC into a phone with Skype, although some devices may require a special adapter that is not included.
Features of the application:
Dialing using the dial;
Retro bell and the sound when dialing;
The background color of the screen, below the base and the handset Ice-Phone;
Contact list to match the base and the handset Ice-Phone.
To buy the novelty will be available through the website of Ice-Phone - http://ice-phone.com/about.html.
Official website of Ice-Watch® watches.
Written by Angel
15.10.2012