Especially for those who prefer watches which are pretty different from their "brothers", the information watch portal montre24.com presents an exclusive video clip dedicated to the Italian watch company Giuliano Mazzuoli. Some watch fans, perhaps, are skeptical to the phrase "Italian watches", because today, wristwatches often come as a stable phrase "Swiss watches". But, believe me, today you can find Italian watches that have a very high quality and perfect design, which is quite surprising. Italian watchmaker Giuliano Mazzuoli was founded in 1953 by Italian designer and former racing driver Giuliano Mazzuoli. Today Giuliano Mazzuoli creates sophisticated and original gauges of time with a rather interesting design. In the design of all Giuliano Mazzuoli watches can be clearly seen the designer's passion for racing and sports cars.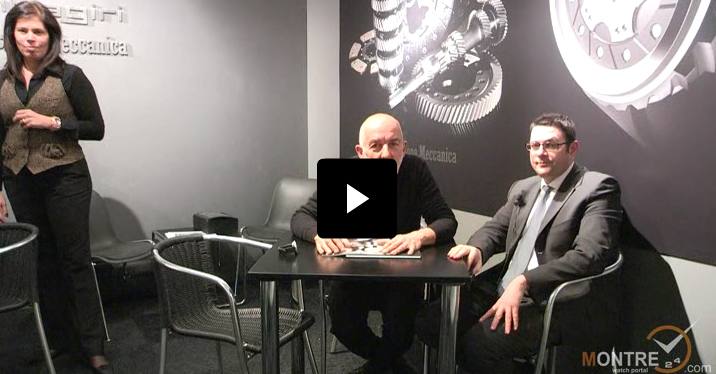 Giuliano Mazzuoli watches presentation at BaselWorld 2012
So, let's see what novelties Giuliano Mazzuoli 2012 at BaselWorld 2012 presented the Italian watchmaker. At the beginning of prepared by the team of montre24.com video clip Giuliano Mazzuoli briefly spoke about the creation of the company, and then began to tell novelties. Giuliano Mazzuoli managed to put such instrument as monometer on a wristwatch. It was the first watch creation of Mazzuoli. The second creation was Manometro Limited Edition watch, source of inspiration for creation of which was the race. Manometro Limited Edition watch is similar with automobile monometer (a device that measures the pressure in the tires). Masters have not equipped this watch with any super functions: Manometro Limited Edition watch is only car gauges in miniature. Manometro Limited Edition watch does not have the crown: it is winded by simple rotation of the bezel. Rotating the bezel in the same direction, you can adjust current time, rotating in the opposite direction – wind watch. A small triangular window in the bottom part of the dial indicates the position of the gear: if it displays number 1 in the window, so it is indicated the position of watch winding, if it displays number 2, so - the time setting. Manometro Limited Edition watch is equipped with a retrograde hand, which reached the position of "12 o'clock", returns to the starting position.
Inspired by the world of motor sports, this year Giuliano Mazzuoli introduced its main novelty - a watch Transmissione Meccanica. All watch elements are reminiscent of different details of racing cars.
However, let us again return to the Manometro watch. According to Giuliano, demonstrated Manometro wrist watch was magical. To prove this, the master decided to play the game, which can be seen in the presented video clip.
More clearly see the novelties Giuliano Mazzuoli 2012 at BaselWorld 2012 can be seen by clicking on the following link - http://montre24.com/video/201/.
Official site of Giuliano Mazzuoli watches.
Written by Freya
23.06.2012