Information watch portal montre24.com presents an exclusive video clip at annual exhibition BaselWorld 2012. Surely, prepared by team of montre24.com video clip especially will be appreciated by Russian, because today on the world market there are a few Russian companies, especially producing watches. This video clip is dedicated to the company Aviator. Aviator is the Russian brand of pilot's watches, which is included in the "Volmax" group, which includes such brands as "Buran" and "Sturmanskie."
So, at the annual exhibition BaselWorld 2012 the watch company Aviator introduced its next novelties Aviator 2012. Vice - president of the company kindly agreed to show the team of montre24.com prepared novelties Aviator 2012. At the beginning of prepared video clip was presented brief information about the foundation and further development of the company. After was revealed the basic concept of Aviator – a kind of revival of watch history as first wristwatches were designed specifically for the pilots. The entire collection of Aviator watch is divided into three lines. The first line is a vintage line, models of which are devoted to watches of past eras. The vintage line includes quite remarkable models. Vintage watches Aviator have big case, which is a bit like pocket watch. As all vintage watches, models of this line have readable dial with a minimum set of functions. Demonstrated model from vintage line is available in two versions. "Buying vintage watches Aviator, you acquire the story" - that is how the company has positioned its Aviator watches.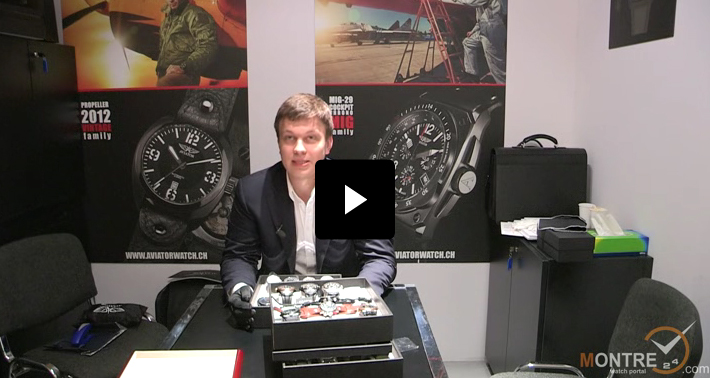 Aviator watches presentation at BaselWorld 2012
The next presented model also became vintage watch Duglas, resembling watches of 1940th years. It was time of civil aviation. Duglas was one of the most famous airplanes of that time. In Duglas watches there is nothing superfluous: everything is subordinated to the principle of minimalism. Curved lugs make a watch very ergonomic. Duglas watches are equipped with an automatic mechanism ETA 2824.
Also was presented limited series Propeller, which is also included in the vintage line. The main feature of this model, which was the basis of name, became a rotor of the mechanism, which has shape like a propeller. When you rotate watch the rotor also rotates. Propeller watch is also equipped with automatic movement ETA 2824.
The next line of Aviator vintage series was MIG line. MIG is a famous Russian aircraft, which is widely popular outside Russia. Also was demonstrated model MIG 29 GMT, which has two functions: 24 - hour display and second time zone. Each model of MIG line on its case back has an engraving of the famous Russian MIG. The line includes models with different coatings of case. There was also presented model MIG 29 Chrono, the main feature of which are hour indices. MIG 29 Chrono watch is equipped with quartz movement. MIG 29 Chrono model is also available in various colors and finishing.
If you liked the demonstrated models and you decide to buy Aviator watch, so the price for Aviator watch with automatic movement is from 750 to 1,000 CHF. As for quartz movements, so the price of Aviator watch with quartz movement varies from 450 CHF and higher.
It was also demonstrated model MIG 25. Masters tried to keep a simple design, however, adding a bright color scheme. Bright color makes MIG 25 watch a trendy product designed specifically for young audiences. Large indicators of dial provide high readability. All marks are covered with fluorescent coating, which provides visibility of indicators, even in absolute darkness. Price of MIG is 25 of 320 CHF.
More clearly see novelties Aviator 2012 at BaselWorld 2012 is possible by clicking on the following link - http://montre24.com/video/198/.
Official site of Aviator watches.
Written by Freya
21.06.2012