Iceland watch company JS Watch Co, which headquarters is located in Reykjavik, has announced in the current 2012 year the release of a new special edition watches Frisland God, in the design of which is used a unique modification of modern watchmaking and elements of culture of Iceland.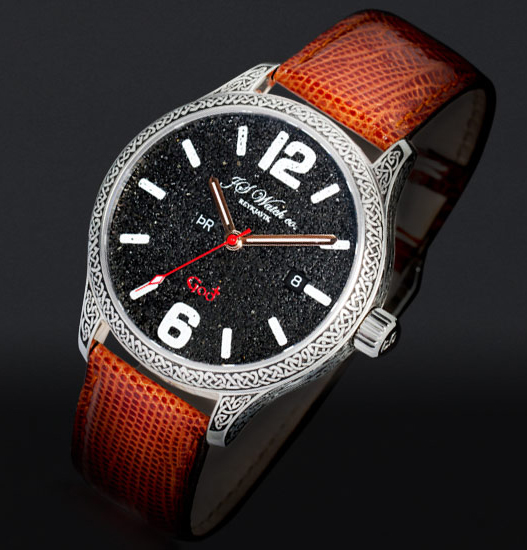 JS Watch Frisland God SE Wristwatch with the ashes of the volcano
The main "chip" of the watch dial is made from the ashes of the volcano with the unpronounceable name Eyjafjallajökull, who became famous for its eruption in 2010. On the black ashes of the dial there are markings in the form of Arabic numerals and text. Central hour and minute hands are made of pink gold and covered with luminescent coating, but the second's hand for easy reading of the testimony is colored in red.
The case of JS Watch Frisland God SE is decorated with ancient Icelandic artifacts, engraved on its entire surface. Stainless steel case has a diameter of 42 mm. On its side with the Old Icelandic letters is inlaid an inscription Höfðaletur, which means "Iceland." Display day of the week is carried out on the dial in the aperture, located at the 9 o'clock position, and date is incorporated into the aperture at 3 o'clock position.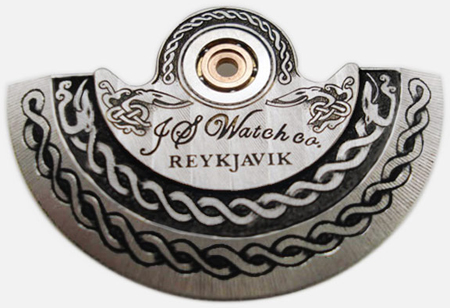 JS Watch Frisland God SE rotor
The JS Watch Frisland God SE watch is based on an automatic mechanism of Execution Top, modified by a complexity of indicating the date and day of week. Collected on 25 jewels, the unique caliber provides a 38-hour power reserve.
The watch is available on a strap made of alligator or lizard leather. The model JS Watch Frisland God SE is produced only on request, and instead the font "Iceland" at the request of the buyer can be engraved with a personal meaning.
To buy the watch, depending on the engraving, is possible at a price of 9,000 to 10,000 Euros.
Official website of JS Watch co. Reykjavik watches.
Written by Lucy Vuiton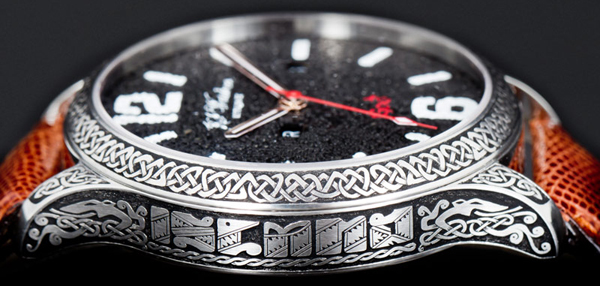 JS Watch Frisland God SE Wristwatch with the ashes of the volcano
05.06.2012