| | |
| --- | --- |
| News of montre24.com: an exclusive video clip of IceLink at BaselWorld 2012 | |
The informational watch portal montre24.com has been added by an exclusive video clip of the company IceLink, which kindly opened the door of its pavilion at the annual exhibition BaselWorld 2012. The annual exhibition BaselWorld is an important and colorful event, which allows all participants - watch and jewelry brands to present their products to a huge number of visitors from around the world. The famous watch brand IceLink took an active part at BaselWorld fair, presenting its truly magnificent creation.
The pavilion of IceLink at the BaselWorld 2012 fair was decorated with large glass windows, which are adorned with luxury watches IceLink. Watches with a deposit of diamonds, the brilliance of which was visible from afar, were unwittingly attracted the attention. Decoration of the pavilion of the company IceLink very clearly reflected the company's philosophy - special love for luxury accessories.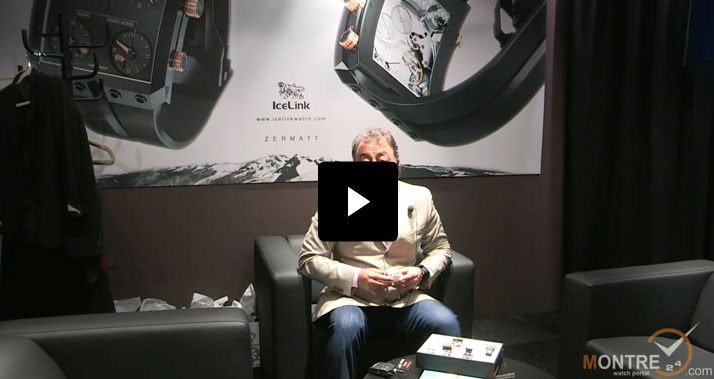 The company IceLink, founded as a manufacturer of jewelry more than a dozen years ago by Andy Soghoyan, is now one of the leading brands for the production of luxury watches and high quality jewelry that adorn the wrists of many representatives of the world show - business. At the annual exhibition BaselWorld 2012 the well - known company IceLink introduced its luxury watches and fine jewelry. CEO of the company IceLink Andy Soghoyan kindly agreed to demonstrate the team of montre24.com novelties of the company IceLink at BaselWorld 2012. IceLink - is primarily diamond watches, which are preferred by the variety of celebrities, whose names were listed at the beginning of the video clip. The first presented model was a wrist watch with 5 time zones, which movement's creation required a lot of time, as an indication of all time zones provides one mechanism. The power reserve of new mechanical watch by IceLink is 50 hours. The next presented model was a watch from the collection Snow Watches, which case, as well as small dials of all time zones are adorned with diamonds, which are iridescent. Such a luxurious and expensive watch design gave the name of Snow Watches series. Further, was presented women's collection - Lady Snow Collection, which includes a model with a white mother of pearl, pink mother of pearl and matte black dial with 5 time zones.
These new women's watches are also fully covered with lots of diamonds. These models are extremely popular with the beautiful half of humanity around the world. In the video clip was also presented information about the major markets of the company IceLink, which covers virtually all corners of the world, as well as the prices of the presented models. More information about the novelties of IceLink at the exhibition BaselWorld 2012 is available by clicking on the following link - http://montre24.com/video/125/.
Official site of IceLink watches.
19.04.2012
Yura Movsesyan - IceLink`s Ambassador
Armenian and American footballer, Moscow "Spartak" and Armenian national team player, Yura Movsesyan has recently became an ambassador of the famous watch company IceLink.
26.03.14 Comments(0)

IceLink sets the tone with Zermatt Gold
The Swiss watch company IceLink, producing unique timepieces with 5 time zones, announces the release of a new model Zermatt Gold, presented in two versions: in a case of 18K white and 18K rose gold.
25.04.13 Comments(0)

IceLink Watch will perform a ''role'' in the movie ''Time Framed''
A unique and luxury watch by the company IceLink with 6 timezones - Zermatt - plays a major role in the new film "Time Framed". It will decorate the wrist of the Special Agent Black during his mission to save the planet. The watch is shown in a teaser trailer for the film.
29.12.12 Comments(0)

IceLink has launched two boutiques in Thailand
The well-known watch company IceLink in early April of this year opened two new boutiques in Bangkok. The opening of new stores is a major step to enhance the capacity for such a large market like Asia.
05.04.12 Comments(0)

Baselworld 2012: IceLink SS Snow
Swiss watch company IceLink was opened forty years ago by young and ambitious businessman Andy Sogoyan. Women wristwatch of this brand value not just ordinary connoisseurs of luxury things, but also popular sportsmen, celebrities.
03.04.12 Comments(1)

IceLink in Los - Angeles!
Recently, the renowned company IceLink, which offers luxury watches with a recognizable design and the placer of the diamonds, has opened a boutique next to the famous shopping at Fred Segal on the Melrose Avenue, in Los - Angeles.
01.01.12 Comments(0)

A New Limited Edition Zermatt - ZT1 by IceLink
The watch company Icelink has released a wristwatch Zermatt - ZT1. For the first time the novelty was presented at the watch exhibition in Basel in 2011, but in February 2012 will be available in new updated version.
10.11.11 Comments(0)



IceLink company is one of the 3 leading American hip-hop industry jewelery brands. The brand's creator – Andy Sogoyan starts designing jewelery under IceLink brand in mid-70s with chains, a symbol of team spirit and unity of the jewelery house and belief in yourself and your business, being its main product. IceLink has become one of the world's first producers of jewelery, made of precious stones and metals, for the last 15 years. Among IceLink company's products there are hip-hop stars and sportsmen, celebrities and chic lovers: through the efforts of the company, IceL...
Detailed information IceLink