| | |
| --- | --- |
| IceLink has launched two boutiques in Thailand | |
The well-known watch company IceLink in early April of this year opened two new boutiques in Bangkok. The opening of new stores is a major step to enhance the capacity for such a large market like Asia. The Swiss company IceLink, specializing in the production of watches and jewelry in "luxury" class, has presented boutiques in the Zen and Siamparagon destinations, selected because of their modern design.
Presentation of the boutiques with his presence honored a singer of Black Eyed Peas -Taboo, who came to Thailand for Zoom Pattaya Festival, held annually in the resort town of Pattaya.
Taboo also took part at IceLink fashion show at the resort BaliHaiBeach in 30-31 March. During the festival the company has presented its luxury products, including also the recently released collection of limited edition - Zermatt watches.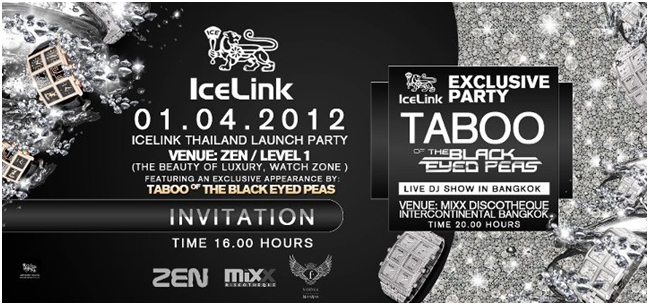 "Zoom Pattaya Festival is designed to meet the needs of the world's elite music, while the IceLink watches are the imprint of luxury, exclusivity and sophistication - said Andy Soghoyan, president of IceLink. - We are honored to be part of the world's largest electronic music festival, and feel a part of this global cultural phenomenon! "
glowing beauty and luster, IceLink watches embody the splendor of cutting-edge design and high technical performance. Focusing on a customer looking for luxury and modernity, the company IceLink offers a wide range of perfect and brilliant watches and jewelry in the price ranges from $ 4000 - $ 300,000.

Official website of IceLink watches.
05.04.2012
Yura Movsesyan - IceLink`s Ambassador
Armenian and American footballer, Moscow "Spartak" and Armenian national team player, Yura Movsesyan has recently became an ambassador of the famous watch company IceLink.
26.03.14 Comments(0)

IceLink sets the tone with Zermatt Gold
The Swiss watch company IceLink, producing unique timepieces with 5 time zones, announces the release of a new model Zermatt Gold, presented in two versions: in a case of 18K white and 18K rose gold.
25.04.13 Comments(0)

IceLink Watch will perform a ''role'' in the movie ''Time Framed''
A unique and luxury watch by the company IceLink with 6 timezones - Zermatt - plays a major role in the new film "Time Framed". It will decorate the wrist of the Special Agent Black during his mission to save the planet. The watch is shown in a teaser trailer for the film.
29.12.12 Comments(0)

Baselworld 2012: IceLink SS Snow
Swiss watch company IceLink was opened forty years ago by young and ambitious businessman Andy Sogoyan. Women wristwatch of this brand value not just ordinary connoisseurs of luxury things, but also popular sportsmen, celebrities.
03.04.12 Comments(1)

IceLink in Los - Angeles!
Recently, the renowned company IceLink, which offers luxury watches with a recognizable design and the placer of the diamonds, has opened a boutique next to the famous shopping at Fred Segal on the Melrose Avenue, in Los - Angeles.
01.01.12 Comments(0)

A New Limited Edition Zermatt - ZT1 by IceLink
The watch company Icelink has released a wristwatch Zermatt - ZT1. For the first time the novelty was presented at the watch exhibition in Basel in 2011, but in February 2012 will be available in new updated version.
10.11.11 Comments(0)



IceLink company is one of the 3 leading American hip-hop industry jewelery brands. The brand's creator – Andy Sogoyan starts designing jewelery under IceLink brand in mid-70s with chains, a symbol of team spirit and unity of the jewelery house and belief in yourself and your business, being its main product. IceLink has become one of the world's first producers of jewelery, made of precious stones and metals, for the last 15 years. Among IceLink company's products there are hip-hop stars and sportsmen, celebrities and chic lovers: through the efforts of the company, IceL...
Detailed information IceLink