| | |
| --- | --- |
| News of Montre24.com: exclusive video of Certina at BaselWorld 2012 | |
Information watch portal montre24.com presents to all lovers of fine watch making and lovers of original watches an exclusive video clip of the famous watch company Certina, which kindly opened the door of its pavilion at BaselWorld 2012. BaselWorld is one of the most important and impressive events of the watch and jewelery world, where each brand try to distinguish itself by decoration of the pavilion and by presented watch and jewelry creations. The company Certina has managed it: all elements of the pavilion reflect the focus of the company - a sport, but rather sporty cars racing. The organizers even placed the sport race car of Formula 1, which perfectly fit into the overall design of the Certina pavilion at BaselWorld 2012. BaselWorld – is a special place for all its participants, perhaps, even "sacred" place for the whole watch and jewelery world, because many companies try to participate here to present all their luxury watch and jewelry creations in the most favorable light, and to the very large number of visitors: general public of amateurs, professionals, distributors, partners and potential customers. BaselWorld - it's not just an exhibition, but an exhibition - fair, because visitors can purchase liked jewelry or watches directly from the highest-ranking corporate executives.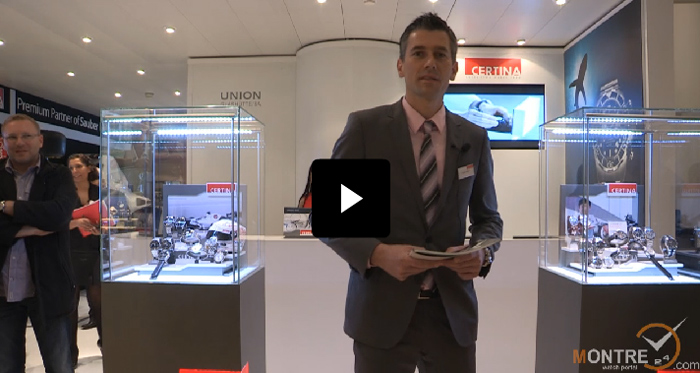 The company Certina, founded in far 1888 by the brothers Alfred and Adolph Kurt, now produces high-end sports watches, which are highly reliable, precision and quality attributes. Even the name of the company fully expresses the basic concept: in the translation from the Latin "Certina" means "strong", "sure". At BaselWorld 2012 annual exhibition the famous watch company Certina introduced its beautiful and high quality watches. The first presented models are high-quality chronographs DS PODIUM GMT with the function a second time zone display, cases of which are made of steel or stainless steel with black PVD coating. After this was presented a sporty collection Certina, which includes updated versions of previous models with the new materials use. The new models perfectly combine sports focus and elegance. Then was also presented novelty, completely with black PVD coating and provided with a digital window on the dial, which has become the distinguishing feature of this new item. The digital window reflects the different indications of additional watch functions, such as date, second time zone, split - chronograph, alarm, and many others. Also was presented a collection DS MASTER, models of which are equipped with quartz movements, which have temperature compensation. These quartz movements have the accuracy certification COSC, which confirms the high quality and accuracy of these Certina models. These watches are 20 times more accuracy than watches with conventional quartz mechanism. After this was presented a collection Certina AUTOMATIC, models of which are presented in different versions of the dial. The watch work is provided by an automatic movement Valjoux 7750. The company didn't ignore a beautiful half of humanity, providing luxury women's watches Certina. Ladies watches Certina are very popular, as they are presented in a rather interesting design embodiment: combination of ceramic and pink PVD coating. Among them have found their place classic women's watches, cases of which are made of steel. Also were presented women's watches DS DREAM, dials of which are decorated with diamonds, which gives the watch a luxurious and elegant look. After was presented a collection DS ACTION, which includes reliable and high quality diver's watches with straps made of stainless steel or silicone. Diving watches Certina of this collection are highly shock resistant. The video clip also briefly revealed the basic philosophy of the company Certina - high quality watches at affordable prices, and a commitment to sporty cars racing, particularly Formula 1. Video clip also provides information about the promising markets of the company Certina.
To get acquainted in detail and more clearly with the Certina watches at BaselWorld 2012 is possible in a video clip of montre24.com, clicking on the link http://montre24.com/video/108/ and http://montre24.com/video/110/.
Official site of Certina watches.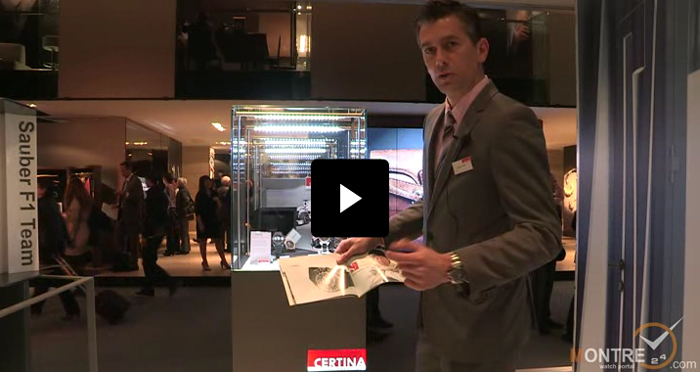 04.04.2012
DS Podium Automatic Chronograph by Certina
The new DS Podium Automatic Chronograph by the Swiss watch brand Certina is presented in a 42 mm case with a thickness of 13 mm in stainless steel.
10.12.13 Comments(0)

DS Eagle by Certina
The company Certina presents a new sporty chronograph DS Eagle with a practical 24-hour pointer of a second time zone.
18.08.13 Comments(0)

DS Powermatic Limited Edition Timepiece by Certina
The watch company Certina announces the release of a new watch DS Powermatic Limited Edition. The case is 40 mm in diameter, made of 316L stainless steel with frosted lugs and a polished bezel. Water-resistant is 100 meters.
11.07.13 Comments(0)

The cooperation of Certina with Sauber Formula 1 is continuing
The famous watchmaker Certina cooperates with the Swiss racing team Sauber 1 since 2005. The cooperation continues. The brand's logo will adorn the vents cars and helmets of two riders – German Nico Hülkenberg and Mexican Esteban Gutiérrez.
17.01.13 Comments(0)

Certina presents a new women's watch DS Podium Lady
The watch company Certina has announced the launch of a new women's model DS Podium Lady with an impeccably feminine lines. The new chronograph, attracts the attention of sports design, combined with elements of classical style, has a polished case, made of stainless steel.
14.09.12 Comments(0)

New DS Dream Collection by Certina
The famous watchmaker Certina has released a new collection of women's models, called DS Dream. New items from the line are shown in a round case of stainless steel. This is an excellent model with diamonds, which give them an elegant look.
29.08.12 Comments(0)

BaselWorld 2012: DS1 Automatic Watch by Certina
The watch company Certina has introduced at the international exhibition BaselWorld the original watch DS1 Automatic (Ref: C006.407.16.088.00), which the representatives of the company describe as "reliable, traditionally strong in the stylish new frame."
10.03.12 Comments(0)

New Black Chronograph DS Multi-8 by Certina
The company Certina has pleased the fans of precision mechanics with new wristwatch DS Multi-8, decorated in rich black. This men's watch with a sporty appearance perfectly suits to a person, for whom active and dynamic life - the norm.
16.02.12 Comments(0)

A New DS1 Automatic by Certina
For 50 years, the initials DS on the watches of the Certina brand is considered a confirmation of their precision and trustworthiness. In 1959 the company has launched a Certina watch making the concept of Double Security, based on the integrated impact-resistant assemblies, a strong body, a thick sapphire crystal, together with a hermetic seal of the stem, a crown and a case back.
16.12.11 Comments(0)

New women's watch DS Prime by Certina
Swiss watch brand Certina has introduced the new women's wristwatch DS Prime. Gentle, with the flowing lines of the case, but at the same time sporting and dynamic, the new watch embodies a model of refinement and perfection.
28.10.11 Comments(0)



In Grenchen in 1888, brothers Alfred and Adolph Kurt founded the workshop, which produces high-quality watch movements and parts. They released their first line of watches under the brand name "Gana", using their own mechanisms. After that a huge success was followed at the World Exhibition in Milan, where they have received the award. Then in Brussels and Bern other awards were waiting for them. In the future control of the company engaged in Afreda's sons - Hans and Erwin. During the celebration of the 50 - anniversary of the company's foundation, they decided to change the name of the brand. "Ce...
Detailed information Certina