| | |
| --- | --- |
| BaselWorld 2012: DS Multi-8 Watch by Certina - original watch for active lifestyles | |
Following its founding principles - vision and innovation, the Swiss watch company Certina, known as a manufacturer of sports watches, has presented at the annual international exhibition BaselWorld 2012 a DS Multi-8 watch in completely black.
The DS Multi-eight (Ref: C020.419.16.052.00) watch - a striking example of the practical chronometer, working on the basis of the analog-digital quartz mechanism of the highest complexity.
The men's watch DS Multi-8 in sporty style, as noted by the company's representatives, is suitable for businessmen and travelers, thanks to the numerous functions and, most importantly, ease of use and stylish appearance of a steel case with black PVD coating.
The DS Multi-8 watch is a logical extension of its eponymous predecessor, executed entirely in black. Like the original, the new DS Multi-8 watch is equipped with a unique analog-digital mechanism made in Switzerland, which provides a set of functions that can be useful for people with active lifestyles. Thus, the mechanism indexes the time in two time zones and calendar data, is equipped with an alarm function, timer and chronograph on a digital display.
The functions are activated with three buttons, which also include the display backlight. A real boon for travelers will be a function of instantaneous display of local time and time of any other point on the planet.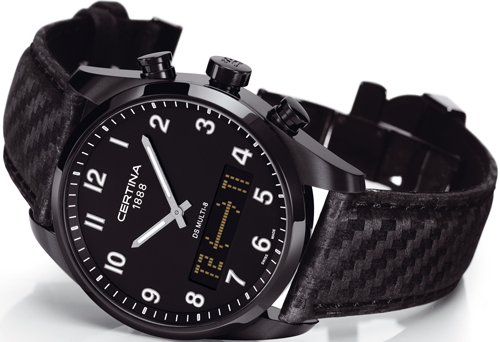 The watch case in stainless steel features a combination of contrasting finishes: polished bezel and sidewalls of the case and polished lugs.
Watches are made on the basis of a quartz analog-digital multifunction mechanism ETA E49.351 of Swiss production.
Functions:
• Analog movement: hours, minutes of local time and second time zone - T1 or T2
• Digital: Time Zones T1 and T2. T1 and T2 Alarm: sound and vibration signals. Timer: sound and vibration signals. Date: day, date, calendar week, month, year. Lap chronograph function, or Add / Split with memory function.
The watch case is made of 316L stainless steel with PVD coating, decorated with contrasting elements, grounded and polished.
The watch dial is black, hour indexes - Arab, SuperLuminova coated in the same way as the hands of the model. Digital display is with the highlighter. The case diameter is 42 mm. Among other things, on the case there are three buttons, on the center button - engraved monogram "DS". The watch water-resistant is 100 meters.
The glass, covering the dial is sapphire, with a bilateral anti-reflective coating.
The watch strap is made with black textured by "carbon fiber" and is equipped by a steel clasp-"butterfly" with a black PVD coating and two buttons.
To buy the watch is available through the authorized representatives at the end of the exhibition. The recommended retail price: 29,490 Swiss francs.

Official website of Certina watches.
03.04.2012
DS Podium Automatic Chronograph by Certina
The new DS Podium Automatic Chronograph by the Swiss watch brand Certina is presented in a 42 mm case with a thickness of 13 mm in stainless steel.
10.12.13 Comments(0)

DS Eagle by Certina
The company Certina presents a new sporty chronograph DS Eagle with a practical 24-hour pointer of a second time zone.
18.08.13 Comments(0)

DS Powermatic Limited Edition Timepiece by Certina
The watch company Certina announces the release of a new watch DS Powermatic Limited Edition. The case is 40 mm in diameter, made of 316L stainless steel with frosted lugs and a polished bezel. Water-resistant is 100 meters.
11.07.13 Comments(0)

The cooperation of Certina with Sauber Formula 1 is continuing
The famous watchmaker Certina cooperates with the Swiss racing team Sauber 1 since 2005. The cooperation continues. The brand's logo will adorn the vents cars and helmets of two riders – German Nico Hülkenberg and Mexican Esteban Gutiérrez.
17.01.13 Comments(0)

Certina presents a new women's watch DS Podium Lady
The watch company Certina has announced the launch of a new women's model DS Podium Lady with an impeccably feminine lines. The new chronograph, attracts the attention of sports design, combined with elements of classical style, has a polished case, made of stainless steel.
14.09.12 Comments(0)

New DS Dream Collection by Certina
The famous watchmaker Certina has released a new collection of women's models, called DS Dream. New items from the line are shown in a round case of stainless steel. This is an excellent model with diamonds, which give them an elegant look.
29.08.12 Comments(0)

BaselWorld 2012: DS1 Automatic Watch by Certina
The watch company Certina has introduced at the international exhibition BaselWorld the original watch DS1 Automatic (Ref: C006.407.16.088.00), which the representatives of the company describe as "reliable, traditionally strong in the stylish new frame."
10.03.12 Comments(0)

New Black Chronograph DS Multi-8 by Certina
The company Certina has pleased the fans of precision mechanics with new wristwatch DS Multi-8, decorated in rich black. This men's watch with a sporty appearance perfectly suits to a person, for whom active and dynamic life - the norm.
16.02.12 Comments(0)

A New DS1 Automatic by Certina
For 50 years, the initials DS on the watches of the Certina brand is considered a confirmation of their precision and trustworthiness. In 1959 the company has launched a Certina watch making the concept of Double Security, based on the integrated impact-resistant assemblies, a strong body, a thick sapphire crystal, together with a hermetic seal of the stem, a crown and a case back.
16.12.11 Comments(0)

New women's watch DS Prime by Certina
Swiss watch brand Certina has introduced the new women's wristwatch DS Prime. Gentle, with the flowing lines of the case, but at the same time sporting and dynamic, the new watch embodies a model of refinement and perfection.
28.10.11 Comments(0)



In Grenchen in 1888, brothers Alfred and Adolph Kurt founded the workshop, which produces high-quality watch movements and parts. They released their first line of watches under the brand name "Gana", using their own mechanisms. After that a huge success was followed at the World Exhibition in Milan, where they have received the award. Then in Brussels and Bern other awards were waiting for them. In the future control of the company engaged in Afreda's sons - Hans and Erwin. During the celebration of the 50 - anniversary of the company's foundation, they decided to change the name of the brand. "Ce...
Detailed information Certina