| | |
| --- | --- |
| Limited Watches of Armand Nicolet at BaselWorld 2012 | |
At the annual exhibition of BaselWorld 2012 the watch company Armand Nicolet has introduced a series of classic watches L10 with sleek lines and contours, the style of which emphasizes the fundamental values of the brand - the elegance and perfection of execution.
The minimalist design serves as a striking proof that true beauty lies in simplicity rather than ostentation.
Laconic dial is presented in four colors - gray, silver, blue and black. On it the oblong hour markers and central hands (indicate hours, minutes, seconds) are stood out in contrast.
The watches are collected on the basis of the manufacturing movement AN710A, modeled on the basis of rarity caliber FHF 72 (diameter - 26 mm, thickness - 3.60 mm, consisting of 98 parts, based on the 17 jewels, the frequency of balance oscillation of 18 000 pc / h, power reserve - 34 hours, setting up of the course is made in the accuracy of the five positions). Watchmakers of Armand Nicolet have improved the historical mechanism, adapted to modern technical requirements (anti-shock system Incabloc, balance Glucidur, Swiss-made anchor descent).
The mechanism is set to a 40 mm round case made of stainless steel 316L (Ref. 9670A-AG-P670MR1, Ref. 9670A-BU-P670BU1) or a combination of stainless steel 316L and 18K pink gold (Ref. 8670A-GR-P670GR1).
The watches are released in a limited edition of 999 items.

Official website of Armand Nicolet watches.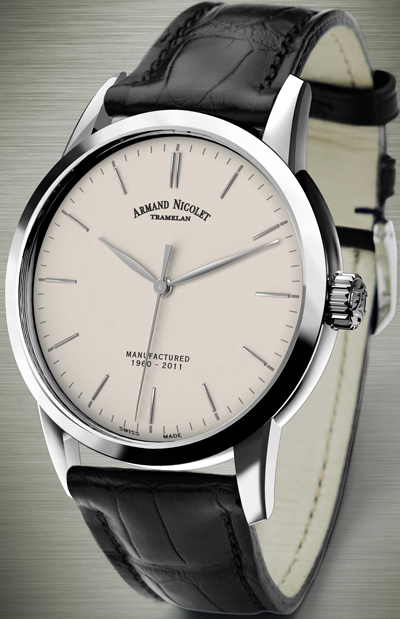 31.03.2012
Basel-2014: L14 O.H.M. by Armand Nicolet
At the international watch exhibition Baselworld-2014 will be the world premiere of the new limited model L14 OHM, issued by the Swiss watch brand Armand Nicolet.
07.02.14 Comments(0)

Armand Nicolet Presents L09 Watch
The famous watch company Armand Nicolet has released its first collection of sports cars. The novelty L09 in a titanium case with a black DLC-coated is released in a limited edition - 450 items.
06.03.13 Comments(0)

Classic Men's Watch by Armand Nicolet
The company Armand Nicolet has announced the release of the classical model MO 2 Ref. 9744A-BU-M9740, combines the age-old tradition of Swiss watchmaking and the incomparable classic style.
08.12.12 Comments(0)

Armand Nicolet and Its Bestseller LS8
Introducing the attention of precision mechanics admirers a video of the LS8 watch, based on the vintage mechanism of 1957 that previously submitted by Armand Nicolet at the BaselWorld 2012. More information can be found here http://www.pam65.ru/news.php?newsId=2541.
03.11.12 Comments(0)

Watch-skeletons by Armand Nicolet at BaselWorld 2012
The company Armand Nicolet at the international exhibition BaselWorld 2012 has introduced a skeletonized watch. These are not new models; the collection was created back in 2009. Perhaps the fans have been waiting for Armand Nicolet novelties.
01.05.12 Comments(0)

Sporty Watch Armand Nicolet S05 at BaselWorld 2012
The company Armand Nicolet, known for its high-precision watches, set up on the base of the old movements, for several generations produces unique models, which reflect the newest technical advances of the company.
29.03.12 Comments(1)

M02 Collection by Armand Nicolet at BaselWord 2012
The company Armand Nicolet, known for its high-precision watches, created on the base of old movements, this year at the annual exhibition BaselWord has presented the M02 collection, in which fully realized the technological advances of the brand.
24.03.12 Comments(0)

Women's Watches Armand Nicolet LL9 at BaselWorld 2012
At the annual exhibition BaselWorld 2012 the company Armand Nicolet has presented a collection of women's watches LL9, in which the thin line between watchmaking and jewelry craftsmanship is permanently erased.
22.03.12 Comments(0)

J09 Watch by Armand Nicolet at BaselWorld 2012
By combining the Swiss watch experience with a contemporary style, the company Armand Nicolet has created a new line of watches J09, presentation of which was at the annual exhibition BaselWorld 2012.
20.03.12 Comments(0)

A New Limited Edition Watch L10 by Armand Nicolet
In 2011 the famous watch brand Armand Nicolet presented a new model L10. The limited line is executed in a minimalist style. The strict dial has several versions - grey, silver, blue and black. On the dial there are only temporary steel oblong indices and central hands. The model comes with 40-millimeter stainless steel 316L case or stainless steel crown and bezel of 18-karat gold.
30.09.11 Comments(0)



Armand Nicolet watches were born in Tramelan. In the end of 19th century, this region was a birthplace of many craftsmen, watchmakers and other classes, who had escaped from political repressions in France. Consequently, it became one of the main centers of modern Swiss watchmaking. In that time, a boy named Arman Nicolet was born. Since his childhood Arman helped his father to make watches, having no idea how to do it. Arman Nicolet preferred playing with wheels to toys, they were his favorite hobby. Then his father saw his son's talent and knew he would do it for the rest of his life. Soon Arman's father began ...
Detailed information Armand Nicolet