| | |
| --- | --- |
| BaselWorld 2012: La Croix Watch by Cecil Purnell | |
During the annual international watch exhibition BaselWorld 2012 the company Cecil Purnell, known as a manufacturer of timepieces with tourbillon, has presented its new developments. In particular, the focus has became a new manufactory caliber, which now consists of more details and jewels (their number has reached now up to 21), indicated the improved working of the mechanism.
The company Cecil Purnell presents at the international watch exhibition BaselWorld 2012 a new wristwatch La Croix. The original timepiece is made in the best traditions of the company, which is based on three principles: expertise, independence, and absolute adherence to company values.
Years of work in the watch industry has showed that Cecil Purnell is not just a brand that demonstrates technical achievement. This is a name that speaks of the commitment to created aesthetics and developed technical excellence.
The exhibited watch La Croix operates on the base of the manufactory caliber CP-V11 with manual winding and power reserve of 55 hours. The mechanism is based on 21 jewels and consists of 183 components. Tourbillon is situated between two bridges of the mechanism. The frequency of the balance is 21,600 vibrations per hour. The watch water-resistant is 50 meters.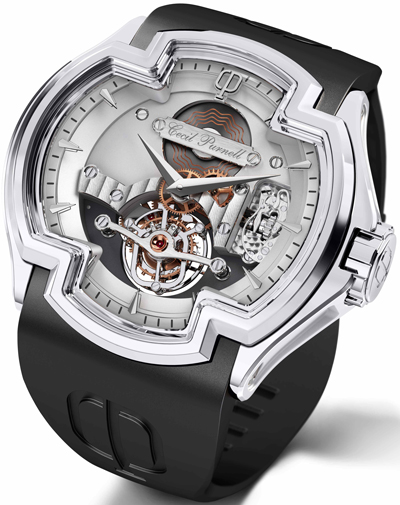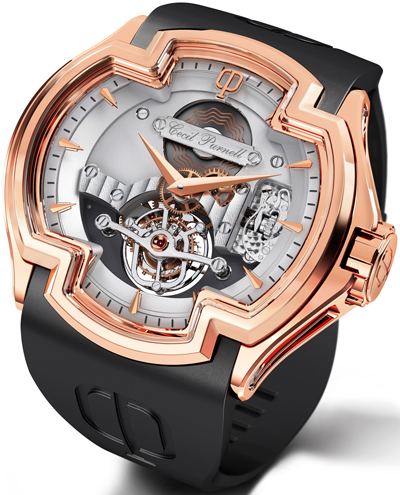 15.03.2012
New Pit Lane Timepiece by Cecil Purnell
The new watch by the watch brand Cecil Purnell, called the name Pit Lane, is presented in a round case of 18-carat white or rose gold, titanium and rubber.
20.07.13 Comments(0)

New Sleek Women's Watch by Cecil Purnell
The known company Cecil Purnell has released the first women's watch, which will be officially presented at the annual watch exhibition BaselWorld 2013.
10.04.13 Comments(0)

BaselWorld 2012: Passage De L'Heure Watch by Cecil Purnell
The watch company Cecil Purnell - one of the few brands that specialize extremely in the production of Tourbillon. Founded in 2006, the company during the lifetime on the watch market with its products affirmed the position in the relative of the watches: the true measure of skill in the modern watchmaking may be the presence of the Tourbillon.
16.03.12 Comments(0)



The creator of watch manufacture "Cecil Purnell" - Cecil Purnell is a man, who in love with the art of watch making. Purnell, who lived over a hundred years ago, was a collector of fine watch rarities. This passion for watch making was succeeded by his grandson, Jonathan Purnell, who with Stephen Valsamidis opened a factory that is engaged in the production and development of movements. We should not forget about the factory "Horlogerie Allaine", which develops and manufactures complex mechanisms in Alle, in the Jura Mountai...
Detailed information Cecil Purnell