Watch company Obaku is famous for its minimalist and at the same time, philosophical models, subordinated by the worldview of Zen, which is followed by the founders of the brand. Danish designers Kristian Mikkelsen and Lau Lingard Rouge prefer to create chronometers for the fans of "reasonable minimalism."
The new men's watches Obaku are ideally matched to the proprietary brand philosophy. The "clean" round case with a diameter of 41 mm, steel bracelet with a comfortable, smooth functioning. Black PVD-coated steel, or titanium - three versions of the performance of new products. Titanium and PVD watches have black dials with white hands, and steel - white dial with black blacks.
In the near future Obaku promise to provide a watch with chronograph function, and the novelties have an additional function of date indicating - in a small round window at the 6 o'clock position. It is difficult to call the watch very simple. Rather, they are more suitable for such epithets as minimalist, or better, laconic. On the dial at the 12 o'clock position is set the brand's logo, hour markers are "cut" on the periphery, where there is also the minute marking.
Marketing manager of the company Henrietta Arwen said:
"We have always sought to produce a watch that would be remained "eternal." That those which will not lose its relevance in the next year. For example, you can now produce particularly large, thick watch in the craziest colors and they will be snapped up. But the next year all these will turn into a pile of scrap metal - will not be so easy to go - they go out of style. And our watches, we hope, will remain in demand in ten years."
Round watches are especially consistent for the brand Obaku philosophy, whose principal symbol is a circle, and the name is taken from the branch of Zen Buddhism, involving focus only on the most important thing in life. According to one of the brand's founders - Kristian Mikkelsen - "these watches are just spared the unnecessary parts, like a sculptor removes from these parts his stone."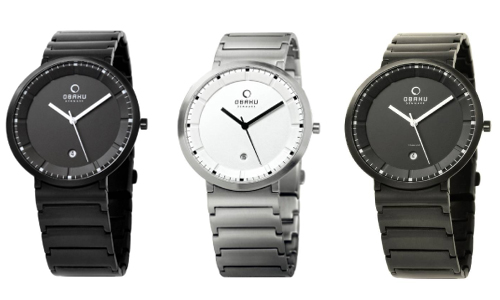 25.02.2012