| | |
| --- | --- |
| New Colorful Women's Watches by Swatch | |
The watch company Swatch in anticipation of the upcoming spring releases a new colorful collection. These are colorful women's watches Lady Originals with long, binding the wrists of a few rings, straps. Unlike last year's collections, which were attached pastel colors, the new watches are full of bright and saturated colors.

However, in the Lady Originals collection has appeared classic dark colors - for example, the whole black watch. There are also presented nine colors: red, yellow, blue, orange, green, light green, pink, purple and dark blue. The watch has three central white hands, on the dial there are located the 12 white Arabic numerals. The dial itself, a plastic case and a soft silicone strap - an appropriate color scheme.

Extra-long straps will be a great bright decoration for a wrist of a woman, and certainly will enchant with their gentleness and tenderness. Inside the watch Lady Originals is installed a quartz movement. The diameter of the case from brushed opaque plastic is 25 mm.

These watches will be a perfect accent color, which perfectly complement the female wardrobe. Juicy, vivid colors warm up with the memories of sunny summer.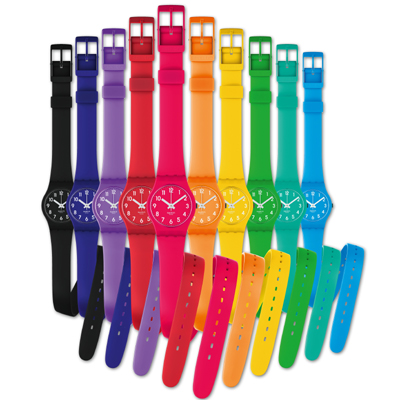 09.02.2012
Suzanna
I would call it a "teenage collection"... Although it's nice we have a manufacturer at the market, creating not only "classic and elegant watches".
New Original Watch by Swatch and Mika
This year, the famous watch company Swatch is celebrating its 30th anniversary. Pop star Mika, who was born in Beirut, also celebrated three decades this year. The singer fully shares the Swatch desire for creative diversity that attracts buyers from all over the world.
19.11.13 Comments(0)

New Blue Wild Face and Wild Face Watches by Swatch
The famous watch brand Swatch, which is a partner of the 55th Venice Biennale of Contemporary Art, has released two original models, the design of which was developed by contemporary artists.
07.06.13 Comments(0)

Iridescent Colors from Swatch and Fred Butler
Despite the fact that summer is over and before the spring is still far, but the world famous watch company Swatch and unique jewelry designer Fred Butler have developed a novelty, thereby preparing for another warm season.
23.10.12 Comments(0)

Universal set of Irony watches by Swatch
Swiss watchmaker Swatch has expanded the Classic collection with a new universal set Irony, which includes three models - Irony Lady Lady, New Irony Big and Irony Medium. All models are available in stainless steel cases (diameter of a female model - 34 mm, New Irony Big - 43 mm and the Irony Mediums - 35,2 mm).
22.08.12 Comments(0)

Gold Watches by Swatch
The appearance of the gold watches by Swatch, famous first of all with the budget segment, may seem a step in the higher price segment. However, it does not that.
31.01.12 Comments(1)

A New Love Collection by Swatch
The famous festival of lovers is approaching. Do yourself and your sweetheart a nice present. The watch company Swatch is a unique gift collection. The models of Love Collection can be not only a great present, but also the recognition of the feelings.
11.01.12 Comments(0)

Swatch Group Hotel is opened in Shanghai
The watch company Swatch Group has opened in the historical heart of Shanghai its own hotel. The building was renovated, and on the first floor there are designer shops of watches belonging to Swatch Group brands: Swatch, Blancpain, Breguet, Omega.
02.11.11 Comments(0)

New watches from Swatch & Art collection
In October, the Swatch watch company introduced new models in Venice, additions to the collection of Swatch & Art. Venice was chosen as this year, the watch company became a partner of the famous Venice Biennale. The Swatch & Art collection is available at the end of October.
12.10.11 Comments(0)

A Touch Swatch wristwatch
It is announced the release of the first digital watch Swatch, equipped with a touch screen. The name of the new watch is Swatch Touch. The new watch does not have the keys - access to all functions performed by the OSD. The additional functions of the watch are timer, stopwatch, calendar and alarm clock.
04.10.11 Comments(0)



Swiss watch brand Swatch - real watches of Swiss quality. People who utters the word "Swatch" no brag, but show their attitude to the world. It is simply impossible that such watches were out of fashion because the Swiss company is constantly releasing new products - at least two models per year, on the creation of which employ the most famous designers and watchmakers in the world. Swatch wrist watches are very practical and easy to use, without losing its elegance and, of course, luxury. During its existence, the Swiss watch company Swatch with the sonorous name has not lost the status of "real" watches, despite the fact that there were enough companies which wanted to spoil the reputation of Swatch. To maintain its place of honor in the market among other manufacturers, the owner and founder, Nicholas Hake used the following principles: first, he sought to make their watches more accessible, but at the same time&n...
Detailed information Swatch