| | |
| --- | --- |
| New sports watch RSW | |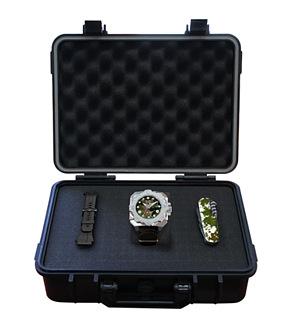 The Swiss watch company RSW has presented unique edition Limited edition CAMO Diving Tool box. This is not just a watch, but a gift set of tools for divers and travelers. The watch is packed in special case; spare strong rubber strap and famous Swiss knife with a blade for all occasions.

The new wrist watch, included in a set Limited edition CAMO Diving Tool box, has two types of dial: water-camouflage or army green, camouflaging under the grass and ground. This watch has very harmonious look in the woods, or under water (with a blue dial). Swiss knife is also "dressed" in the appropriate to dial camouflage.

The diameter of the steel case is 46.2 mm (when measured with lugs, the larger - 53.6 mm). The thickness is 16.5 mm. Black PVD-coated. Water resistance is 300 meters. Naturally, like all wrist watches for divers, the novelty has unidirectional rotating bezel. The crown is protected by a pair of square protrusions.

In accordance with the techno-design hour markers on the dial are replaced by the image of the 12 metal screws. Appropriate marks 6, 4 and 8 are larger in size than the others. Near the mark 3 there is a small date window. Bolts, tips of the hands and the mark 12 on the bezel are covered with white fluorescent compound to ensure good watch readability in the dark or in low light underwater.

Popular automatic movement ETA 2824-2 provides the watch work. Both versions Limited edition CAMO Diving Tool box are released in limited edition – only 49 boxes. All watches are numbered, and not on the case back, but right on the dial – at the position 6 o'clock.

Although the novelty RSW has an innovative, unusual design, it belongs to a reputable company which is engaged in watch making since 1914. Rama Swiss Watch began as a small family workshop. Today it is a big watch company that has many fans.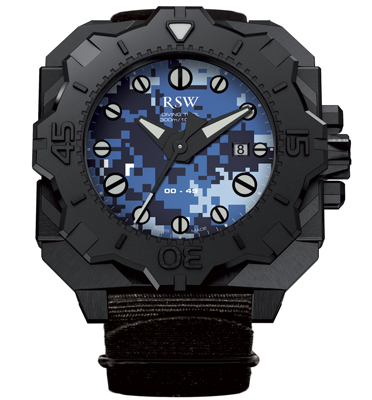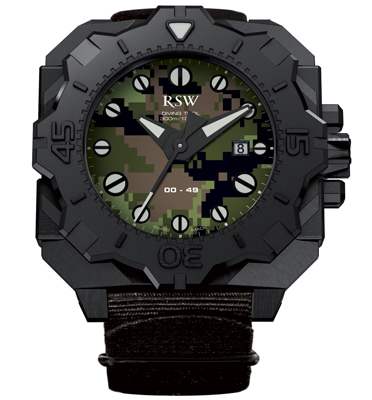 08.02.2012
Liubov Charkashyna will present RSW
The watch company RSW was founded in 1914 in Switzerland. Models of this brand have taken their rightful place in the watch market in a short period. RSW watches recently appeared on the market of Belarus.
16.01.13 Comments(0)

New RSW Outland Watch
Swiss watch company RSW, founded in 1914, has released a new model from the Outland collection.
10.09.12 Comments(0)

RSW announces a new jewelry watch Windflower
Recently, a watch collection of the brand RSW was supplemented by a fine jewelry novelty Windflower (Ref. 6965), reminiscent of a spring flower. An original design of the model transmits skill of the skillful hands of designers who want to implement in a small accessory elegance and tenderness.
23.08.12 Comments(0)

Wrist watch RSW in honor of the 700th anniversary of Swiss La Neville
The watch brand RSW has released a series of models dedicated to the Swiss town La Neuville, which this year celebrates its 700th anniversary. The city is chosen not just because of the beautiful date. La Neuville is home to the watch brand RSW, established in 1914.
14.02.12 Comments(0)



The Swiss watch company RSW is the guarantee of the perfect quality, the embodiment of the sophistication and the know-how. The base of the watch brand Rama WATCH SA was laid by M.A. Marachly, who founded the watchmaking workshopin 1914 . The father's business continued Rafik Marachly, who from his birth on 1928 started to discover the magic of the watch world and antiques. From his early childhood, his heart beat at the rhythm of the watches. Although his father trusted him the work in the watchmaking, Rafik Marachly tried himself at the other professions (cabinet maker, journalist). However, as a result he understood that he could not leave the world of the watches. By 1951, he led his father's business. In 1956 Rafik Marachly creates "his" first mod...
Detailed information RSW