| | |
| --- | --- |
| GTE 2012: A watch Magnificum Chronograph by the company Zannetti | |
At the exhibition GTE 2012 the watch company Zannetti has pleased its fans with chronographs, included in the line Magnificum: chronograph with a blue dial (Ref: MEN.C1S-B.A), the chronograph with a gray dial (Ref: MEN.C1S-N.A) and chronograph with a brown dial (Ref: MEN.C1S-M.A).
The watch is equipped with aperture of the date and the central 30-minute counter. The glazed case of the chronograph in diameter of 47 mm and with thickness of 12.5 mm is made of stainless steel. The back cover is made of stainless steel; sapphire crystal is secured by six screws. The buttons of the chronograph are located at the position of 2 and 4 o'clock, crown - at the position of 3 o'clock.
This watch has released in limited edition based on the automatic mechanism Valjox 7753.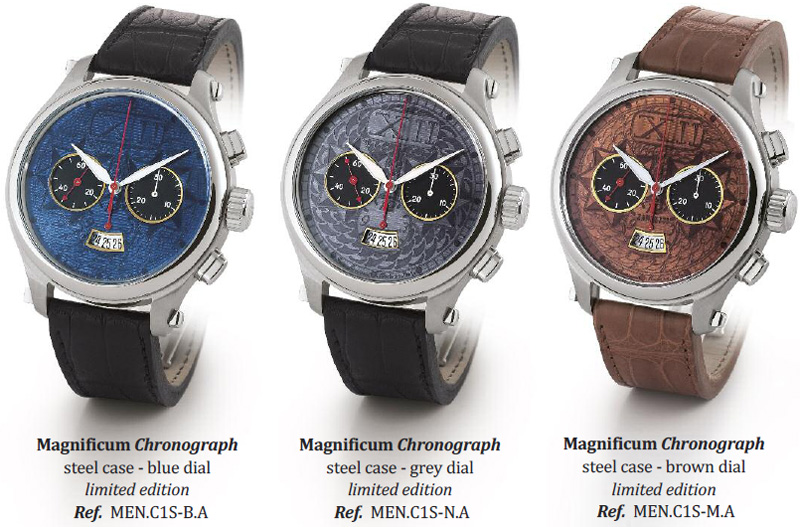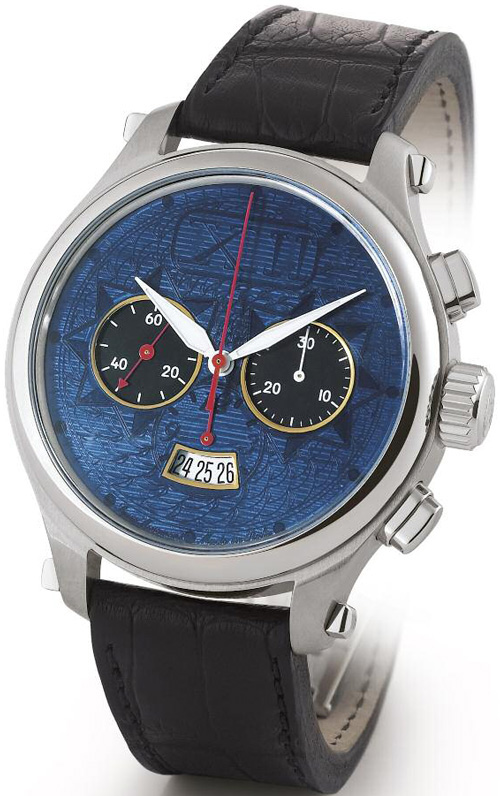 27.01.2012
WheelOrgy Timepiece by ZANNETTI
Presented by the Italian watch brand ZANNETTI, a new model WheelOrgy Ref. R2WH.D1S-NA has an unusual addition to the Regent collection. The novelty is characterized by erotic images on the dial.
28.10.13 Comments(0)

BaselWorld 2012: Gladiatore Collection by Zannetti
Roman gladiators (from Lat. Gladiator means "Swordsman", from gladius – "sword", "gladius") are the names of soldiers in ancient Rome who fought among themselves or with the animals on the fun in different public arenas.
24.03.12 Comments(0)

GTE 2012: Magnificum Power Reserve Watch by Zannetti
The company Zannetti has presented at the international exhibition GTE 2012 a watch collection Magnificum, consisting of several models. The satin case of the Magnificum Power Reserve (Ref: MEN.P1S-BA) model in diameter of 47 mm and 12.5 mm thick is made of stainless steel.
30.01.12 Comments(0)

GTE 2012: Company Zannetti presents
The watch collection by company Zannetti, represented in this year's at GTE, can be described as watches with a distinct "personality", which major feature became a big case and a dial with enamel engraving.
25.01.12 Comments(0)

A New Italian watch Zannetti
An Italian watch company Zannetti presents a new model. This is the wrist watch Magnificum Regulateur, the dial of which shows the original finish and is covered with translucent enamel. The watch is "dressed" in a classic round steel case.
26.09.11 Comments(0)



In the early 20th century Carmine Zannetti, master jeweler and an admirer of fine mechanics, founded the watch company ZANNETTI. From the very beginning the motto of the company was striving for accuracy in the manufacture of parts and their indispensable aesthetics. Mario Zannetti - the world's artist, the son of Carmine, he helped his father in his business and to design watches sophisticated, proprietary, extremely elegant and recognizable on the details of which are characteristic only watches ZANNETTI. Mario gave his skill and knowledge to his son - Riccardo Zannetti, who became a worthy successor to the family business, doing everything necessary in order to watch the Italian notable for their watch work precision, respectability, exceptional quality and exclusivity. Riccardo Zannetti li...
Detailed information Zannetti