The watch company JS Watch Co. Reykjavik in Iceland has teamed up with two famous Icelandic artists, Eggert Petursson and ERRO. Together they have created colorful watches, the funds from the sale of which would go to charity KRAFTUR, which deals with the help of oncology patients and their relatives.

The project was conceived late in 2010, but only reached the final realization today. As a result, the company JS Watch Co. Reykjavik presents an Islandus watches in two versions, adorned Eggert Petursson and ERRO. The role of the canvas for the artists performed dials, as well as cases, decorated with the same pattern. The completed watches will be sold at auction and the money, as already mentioned, given a charitable trust.

Eggert Petursson has chosen a floral motif for the dial design of Islandus. In the end, the watch is studded with bluish flowers Veronica Fruticans. On the box for watch, these flowers are shown together with the green leaves of willow and herbaceous cuff. All these plants live in mountain hollows under the winter snow, which serves them as a protective shield. Petursson in recent years often draws in the mountains and these plants have become one of its main themes.

Decorated by ERRO the wristwatch is decorated by the reproductions of his paintings Facescape, written in 1992. This painting shows the faces of American comic book second plan heroes, in such a composition reminiscent of the decorated faces of football fans. In 1999 the artist created a round version of this painting, which was moved on the dial. The same picture adorns the watch case.

By the way, what are the watches JS Watch Co. Reykjavik Islandus themselves? This is a classic three-hand watch decorated with "Breguet apples." Their 44-millimeter case is equipped with an automatic mechanism with the rotor in 18K gold finished by hand, which one can enjoy through the transparent case back. It is supplied on a black crocodile leather strap. The only difference is that the model of Eggert Petursson has a date aperture at the position of "6 o'clock".

Connoisseurs of art and collectors can purchase these watches at online auction JS Watch Co. Reykjavikuntil in January 20 next year. Pre-watches are estimated at between $ 4 to 5 thousand.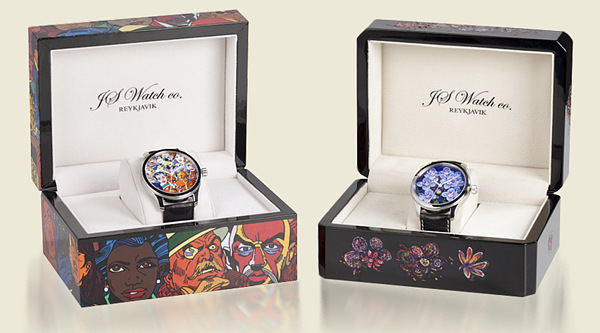 22.12.2011