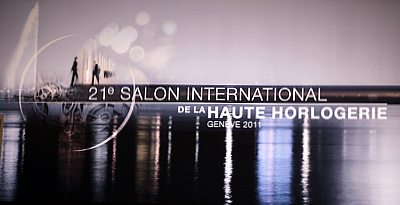 The salon of haute horlogerie SIHH was arranged at 17-21 of January, 2011, in Geneva. The world-known exhibition opened its doors for elite of watch industry for the 21st time within three decades to demonstrate its new watches and achievements to its own colleagues, journalists and collectors. The participants of SIHH indeed set unique trends in the world of watch art. SIHH 2011 was a close event for selected ones: totally 12 500 invitations (for retailers, journalists and representatives of manufactories). Someone may think that number of visitors wasn't great, but this is the policy of SIHH – the saloon is opened exclusively for manufacturers and selected connoisseurs, therefore, SIHH takes a special place among watch exhibitions. The specific feature of event: sophisticated atmosphere of professionalism and keeping traditional values of watch World in each detail, and also following the creative modern innovations.

In 2011 the participants of Genevan saloon presented unusually small number of new watches: perhaps, only several of them. Why? Everything is clear: three years ago the luxurious watch boutiques suddenly emptied, but it was an unusual "dead" season – the crisis started. The biggest dealers of Northern America, Europe and Japan officially informed Swiss manufacturers about full discontinuation of watch purchases for indefinite periods. Only the market of the most expensive watches over 400 thousand euro didn't suffer. The main supporting factor during past years was Asian market – mainly China. Although now the European markets also recovered, so the industry is safe from danger. According to experts, Latin America and States have just starting recovering, but it is also a serious reason for optimism.

But the crisis recession in demand on elite watches frightened manufacturers so much that they immediately stopped designing and manufacturing new models, and as the manufacture cycle of complicated watches takes three years, we've just enjoyed the first fruits of crisis. Most of SIHH 2011 participants dialed back their plans and, instead of all-out coming out together with new watches, they preferred to get focused in several key fields. Speaking about style and trends of saloon 2011, the classics was undoubtedly dominating. The strict simple, but sophisticated watches practically fully replaced prevailing earlier refined watches with whole bunches of complications.

Apart from 19 participants SIHH 2011 offered several additional exhibitions to 12 500 guests: for example, an exhibition of conceptual photography was situated at the exit of exhibiting center. There you could admire excellent works of outstanding photographers from Dubai, Paris, London, New-York, Munich and Geneva, working for watch journals Plaza Watch and Plaza Magazine, devoted to world fashion and design.

The Zurich Beyer Clock and Watch Museum prepared an amazing exhibition for the 21st anniversary of SIHH: historical watches. As many as 65 unique pieces of pocket and table watches, and also marine chronometers and astronomic devices – the exhibition illustrated the history of watch development from the middle of XIII century down to our days.

"Our days" were worthily presented by Cartier, which prepared a real surprise – exposition, consisting of 280 historical watches from Cartier, presenting important epochs of its way since 1853, when the brand only made its name. Among the exhibits you could find the watch "Tonneau", first appeared in 1906, and even first wrist watch from Cartier, issued in 1888, and also the legendary watch "Santos", created by Louis Cartier in 1911.

Despite all post-crisis tendencies, 2011 was specific for variety of jubilees – of companies themselves, their watch lines or even separate models. All those jubilees were marked by new issues.

And even it's getting more and more difficult to amaze connoisseurs of elite watches, the watchmakers succeed in it. Let's look at the wrist watches, presented in 2011, which rightly can be called "jewelries".