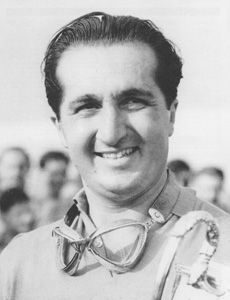 If a person has serious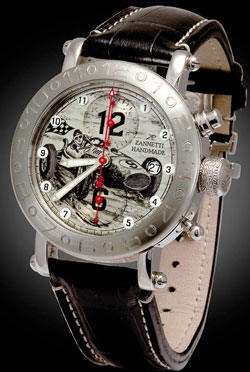 passion, he tries to surround himself with things, which remember him about subject of interest. Many interests of people can be detected by appearance – cloths, accessories. Manufacturer go to such wishes of potential buyers.
Watchmakers Italian company Zannetti worked under design of their creations and got perfect accessory for fans of automobile racing. Collection Time of Drivers appeared in 2001 and immediately got attention of "Formula 1" fans. Watches of this limited line has steel case of round form, style under wheel. By rand engraved numerals, and crown are decorated with image of pattern of tire. There are three color variations of dials Time of Drivers – white, yellow or blue.
Though, the emeralds of this collection are two pieces of watches, which company Zannetti dedicated to Alberto Ascari. This Italian racer is a legend of automobile sports. Ascari twice won world title – in 1952 and in 1953. In youth he participated in bike racing. In 1940 Ascari piloted bolide "Ferrari". The life of talented racer tragically cut short. 26th of May 1955 Ascari together with his friends came to Monz to watch tests of new sports automobile Ferrari 750s. When he was suggested to do several rounds on the trace, the racer couldn't denied the pleasure, and as he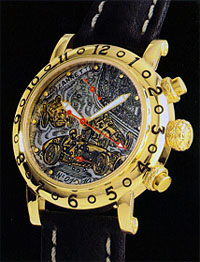 hadn't equipment, he borrowed it from his friend Eugenio Castellotti. Ascari neglected the sign to cancel to take a stranger equipment, which amazed his friends, as he was very superstitious. Unfortunately the sign worked: on the third round the racer lost control, flew on the board of trace and deathly broke.
Now the memory of Alberto Ascari keep two chronographs Time of Drivers from company Zannetti. Their dials covered with hand painting. Screwed back case is decorated with engraving, depicted Ascari himself on the steering wheel of "Alfa-Romeo"
The line Time of Drivers will remember to its owner about roads, powerful cars and great speeds. But the main is that this watch can be distinctive feature of person's individuality, who wears it, making feeling of safety. After all, if your equipment with you, nothing wrong with you is not going to happen.