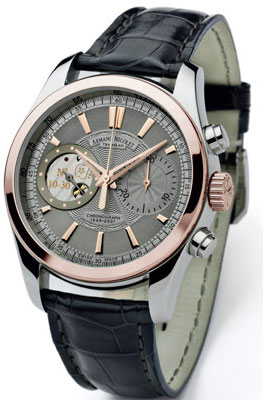 In 2008, the Swiss watch brand "Armand Nicolet" launched a limited watch series L07.
A representative of Armand Nicolet noted in his exclusive interview to PAM65: "In comparison with other famous and luxury Swiss watch brands, the limited series are the most important and unique part of Armand Nicolet watch brand. Our limited series are not devoted to any special event; we are the only company, which creates the limited wrist watches, using original old movements from our store. Due to use of these original old movements, the Armand Nicolet wrist watches are limited. After all movements are used, they cannot be repeated".
The company form Tramelan is specialized in the manufacture of watch models, provided with rare old movements. The L07 collectible masterpieces are based on rarity movements Venus 175 and Venus 188. Those authentic calibers were assembled and adorned at the Armand Nicolet manufactory in 40-50s of past century.
120 models of this collection are based on the caliber Venus 188, and 20 pieces are based on the movement Venus 175 with column wheel, responsible for chronograph's modes change.
The movement platinum and bridges are adorned with "Cote de Nicolet". This pattern was designed by Armand Nicolet – the founder of Swiss brand, who started his career of watchmaker as a master and decorator of movements for the best watch companies.
The watchmakers always paid much attention to adorning of movements. An additional treatment makes movement aesthetically perfect. The treated surface also has practical properties: it "keeps" dust, not allowing it to penetrate into the grease box of stone bearings.
The L07 models are provided with transparent back case, through which you can see the movement. Through the sapphire glass you can also see polished bridges and platinum, classic module of chronograph with column wheel and balance-spiral junction with 12-mm wheel and frequency of 18 000 a/h.
The appearance of watches is as good as their "filling". The watch design is created by means of modern 3D technology. A perfectly designed graphics stand behind the classic case.
The anthracite watch dial is guilloched with thin raised patterns. Due to special guilloche technique, the dial is not glittering, and special effects of light on dial facets create a 3D effect. The watches are provided with traditional system of indication with central hands. The second counter of chronograph is engraved with serial number of model and "Venus" stamp in the form of star. The dial contains the start time of movement manufacture and model design. The central hands and raised numeric marks from polished gold perfectly match with bezel and massive crown. The 60-second scale with 1/5 second marking is positioned near the flange, and the tachometric scale is on the flange itself.
A gift box from fine woods is supplied with the watch.