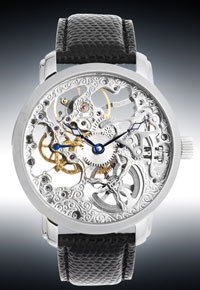 The Americal watch company Akribos XXIV is originated in the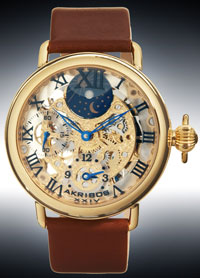 full of ancient legends and myths motherland of powerful gods and strong titans – Greece. Later as the manufacture developed, the company moved to not less picturesque country – Italy. These models designs combine these two ancient cultures. Akribos means precise and exact in Greek. The 24 hours in a day are presented by the Roman numerals XXIV. Today the company is established in the United States with its headquarters in Brooklyn.
The company produces wrist watches, combining the complicated mechanisms with bold, sophisticated designs and advance technology materials to provide the exact and precise 24 hours of the day. The brand applies widely the synthetic sapphire Krysterna, as durable as the natural one, to protect its dials. The elegant brand boxes with documentation and warranty for 2 years come with the models.
The Akribos XXIV brand issues the complicated chronographs, watches skeletons, sophisticated wrist watches with many incrusted diamonds. Such luxury collections as Bravura, Brillianaire, Conqueror, Grandiose, Impreccable, Lady Diamond, Premier, Ultimate, Essential and Explorer include the sophisticated models, developed with the use of the Swiss mechanical and quartz movements with partial or full skeleton dials.
The complicated perfect men watches Magnus III Double Retrograde are made in the original futuristic style. The model is complicated by two retrograde scales of date and second time zone. The Japan quartz movement Miyota is used for the watch development. The time indication in 24 hour format is showed on the separated dial. The watch case of 44 mm diameter is made of the surgical stainless steel with gilding. The dial is provided with synthetic sapphire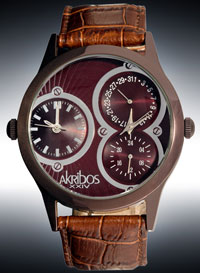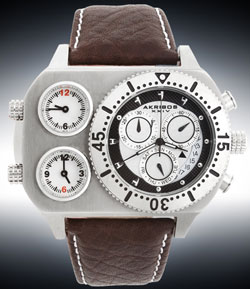 Krysterna. The rubber strap with riffled surface is equipped with elegant buckle. The vintage back case is decorated with the company logo engraving. The water resistance of this model reaches 100 meters.
The stylish model Gladiator with the case concaved inside is assembled based on the self-winding movement with 20 jewels. The hands motion provides the movement winding. The case of 42 mm diameter is crafted in the surgical stainless steel. The back case and skeleton dial are provided with the sapphire glass. The strap is made of soft rubber with riffled cover. The water resistance of the model is 30 meters.
The ideal combination of moderate price, high quality and ultramodern design is a weighty reason to buy the Akribos XXIV watches and become the owner of truly luxury and amazing time indicators.